The Wonderful Egg (Dahlov Ipcar Collection) (Hardcover)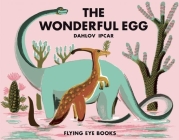 Description
---
Long, long ago, more than one hundred million years ago, everything was different than today . . . there were very strange beasts and most of them were big. Stupendously, tremendously, enormously BIG. And they all laid eggs. And one wonderful egg sat all alone at the base of a giant fern tree in the green jungle world . . .
Dahlov Ipcar's classic picture book explores the glorious world of dinosaurs from Brontosaurus to Tyrannosaurus. Fifteen weird and wonderful prehistoric creatures soar, swim, and crawl through Ipcar's striking illustrations in bold and beautiful color which will entice and enthral young readers.
After meeting all of these fabulous creatures, we find that the egg contains a surprise very different from what we expected And therein lies the extraordinary story of the wonderful egg.
Vivid, four spot color printing pays homage to Ipcar's bold and inimitable color palette
The Flying Eye edition re-masters the original artwork with the same attention to detail and print quality as the original
Dhalov Ipcar is one of America's most iconic children's writers and illustrators
Dahlov Ipcar was born in Windsor, Vermont, in 1917. She has written and illustrated over thirty children's books. She has won the NEIBA Presidential Award in 2010 and the Kerlan Award for Children's Literature. Ipcar still paints on her farm in Maine where she has lived since 1937.
About the Author
---
Dahlov Ipcar was born in Windsor, Vermont in 1917 and brought up in Greenwhich village, New York. She has lived on a small dairy farm in Georgetown, Maine, since 1937; a place that has inspired many of her stories and art works. Over the last four decades she has written and illustrated over 30 children's books including Farmyard Alphabet which won the Moonbean Children's Book Awar. Pieces of her art are displayed in the permanent collections of The Metropolitan Museum of Art and The Whitney Museum of Modern Art. She won the NEIBA President's Award in 2010, the Kerlan Award for Children's literature and has been given three honorary degrees at The University of Maine, Colby and Bates colleges.

In addition to easel paintings, illustrations, and soft sculptures, Dahlov has also completed ten large scale mural projects for public buildings, two for U.S. Post Offices in LaFollette, Tennessee and Yukon, Oklahoma. At the age of 95, Dahlov Ipcar still continues to draw in her hometown in Maine.