Q&A and Reading with Tovah Klein
Please allow 5-10 days for order processing for ALL orders, in addition to shipping times.

We are currently working with very limited staffing and your patience is greatly appreciated. Thank you!
Submitted by info@bookculture.com on Thu, 02/12/2015 - 5:30pm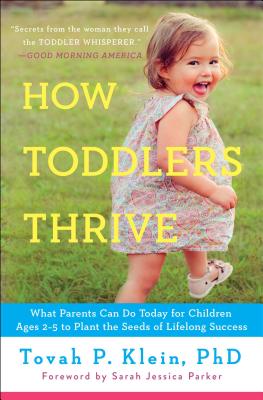 On Tuesday, February 24th, at 7pm Dr. Tovah Klein will read and discuss her new book,
How Toddlers Thrive,
at Book Culture on Columbus. Dr. Tovah Klein, called "the toddler whisperer" on
Good Morning America
, has penned "a parenting milestone" (Dr. Harvey Rotbart,
No Regrets Parenting
) with
How Toddlers Thrive
, which shows parents of children ages two to five how to harness the singular power of the toddler mind during what might be the most crucial time of a child's brain development, to plant the seeds of lifelong success. A smart and useful guide, this book cracks the preschooler code, revealing what you can do to help your toddler grow into a fulfilled child and adult--while helping you and your toddler live more happily together now, and every day.
Looking forward to the upcoming event, we asked Tovah Klein to answer a few questions about her personal reading and upcoming projects.
What are you currently reading?
I am currently reading
The Devil in the Grove
by Gilbert King. I am riveted by it. It is the history of the civil rights movement and how Thurgood Marshall got his start fighting segregation laws in the south.
Are there standard titles or writers you like to recommend, either within or outside of your field?
There are a few I recommend related to children and parents. The writings of Dr. Alicia Lieberman (
The Emotional Life of the Toddler
) is one. She so clearly gets what toddlers are about. There is also a book by Dr. Richard Weissbourd called
The Parents We Mean to Be
. It is for parents of all aged children. He addresses how our actions convey so much to our children and asks parents to think about what values and lessons we want our children to take from us.
Outside of my field in terms of pleasure reading, there are several authors I like. Recently I began reading
The Life and Opinions of Jane Franklin
by Jill Lepore. I keep recommending it to friends because it has a lot of women's history in it. Last year I gave out Tina Fey's
Bossypants
as gifts to friends and staff members- it is hilarious! Anna Quinlen's
Lots of Candles, Plenty of Cake
resonated so well with me as she connects to universals about women, mommies, career women and connection to others, and I recommend that to friends of a certain age.
Do you have a personal favorite book of all time, if so can you share it and tell us why?
My favorite book is
A Tree Grows in Brooklyn
. It's a classic. Even though I can't even recall most details anymore, it sits with me like an old friend. I read it at about the age the main character is when it begins, so I could relate to her. It was really the first book I loved. The protagonist is a girl (most books at the time had male protagonists) and it came to life for me. I was born in Brooklyn but had moved as a toddler to Cleveland, so I think the Brooklyn connection was a start. And then it is a coming of age story, right as I was nearing my teens. It was about people and relationships and hardship and growing up. I just loved it, and whenever it is referenced, in conversation or in print, I am still warmed by it. Maybe I should go back and read it again now. It's also funny because the main character goes off to the University of Michigan. Several years after I read it, so did I!
What's next? Any upcoming book projects in the works that you can tell us about?
I am thinking about a next book but have not settled on any yet. I am thinking about a book geared directly toward parents, about who we are as parents and how knowing ourselves, our motivations and where we come from, can make us better as parents. But it is in the very early thinking stages. For now, I am writing on social media about parents, toddlers and young children. It is a new mode for me so I am still getting used to that, and enjoying it as a way to connect to parents near and far.