Q&A and Reading with Gregory Fletcher
Submitted by info@bookculture.com on Thu, 03/05/2015 - 6:00pm
On Sunday, March 8th, at 3pm Gregory Fletcher reads from his latest book, Shorts and Briefs: A Collection of Short Plays and Brief Principles of Playwriting. Gregory Fletcher is a native of Dallas, Texas, a resident of New York City, a member of the Dramatists' Guild and Actors Equity Association, a graduate of California State University with a MA in Playwriting, and of Columbia University with an MFA in Directing. Composed of nine short plays and and brief principles of play writing, Shorts and Briefs is intended for actors, directors, and producers of the short play genre, both in and out of the classroom.
We would like to thank Gregory Fletcher for taking to time to answer a few questions for the blog and also for sharing his work with us! Enjoy!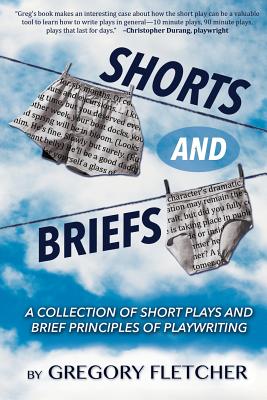 How did you come to write Shorts and Briefs?
I've been writing short plays since 2001, many of which have been produced but not published. I've been teaching playwriting and creative writing since 2004 when I was a grad student at Boston University. I've continued to refine my classroom lessons at Bloomsburg University of Pennsylvania, Niagara University, and currently at CUNY - Kingsborough and the low residency MA/MFA Creative Writing Program at Wilkes University in Wilkes-Barre, PA. Shorts and Briefs brings together my nine short plays in one collection, as well as share the many principles, tips, and advice I've been collecting over the years of teaching.
What are you currently reading?
The Love Book by my good friend Nina Solomon, recently published by Kaylie Jones Books via Akashic Books. It's a funny quirky story about four female friends who test the law of attraction. I've been testing the law of attraction myself these days, so it's a very enjoyable read.
Is there any upcoming publication you've been waiting for?
Being: What Makes a Man marks my creative nonfiction debut with an essay entitled "The Sealed Envelope." And it's been due out any day now for months and months. The anthology of essays follows its companion book Becoming: What Makes a Woman, both of which were edited by Jill McCabe Johnson and published by University of Nebraska-Lincoln Gender Programs.
Any upcoming book projects in the works that you can tell us about?
I'm putting together a collection of my five one-act plays, followed by a list of writing exercises or "insemination" for creative writing. Each play of mine has found its seed of inspiration from a different place, and I'm hoping that creative writing teachers and young writers might appreciate reading about the different avenues that have led to the flow of creative juices.
Also, I've been trying my hand at other genres. I'm on the fourth draft of a memoir about the triangular relationship between my dad and grandmother—not only a tribute to my grandmother but also a coming of age story. I'm in the beginning stages of writing my first Young Adult novel. And I have a full-length play that's being considered for future productions. So much. Life is good.
For more, please check out www.gregoryfletcher.com and follow Greg on Instagram at Fletcher10027.
Recent blog posts