Book Culture Celebrates Women's History Month
Submitted by info@bookculture.com on Thu, 03/05/2015 - 10:55am
Book Culture Celebrates Women's History Month
There is no singular "women's history"; the extremely vast and varied experience of womanhood can not be catalogued by one author or even one genre. In keeping with this idea, our Women's History Month reading list features poetry, science fiction, politics, history, classics, graphic novels, and more. Whatever kind of reader you are, we hope our Women's History Month reading list will introduce you to a new author, new genre, or new way of looking at womanhood.
Nonfiction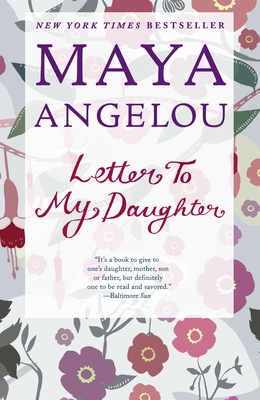 Letter to My Daughter, Maya Angelou
In the introduction to Letter to My Daughter, Dr. Angelou writes, "I gave birth to one child, a son, but I have thousands of daughters. You are Black and White, Jewish and Muslim, Asian, Spanish-speaking, Native American, and Aleut. You are fat and thin and pretty and plain, gay and straight, educated and unlettered, and I am speaking to you all. Here is my offering to you." While this collection of essays doesn't shy away from disturbing topics (there is a particularly graphic essay about a jealous ex-boyfriend attempting to murder Dr. Angelou), her style, and the lessons she imparts, are so honest and empathetic that it's difficult to walk away from Letters to My Daughter without feeling uplifted.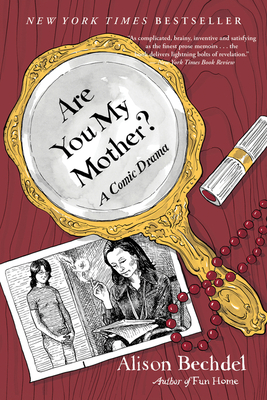 Are You My Mother? Alison Bechdel
In this deeply psychological memoir and graphic novel, Alison Bechdel, author of Fun Home, details her relationship with her mother. Mrs. Bechdel was forced to put her career aside for her husband's, and Ms. Bechdel grapples with "having become the artist her mother wanted to be." In Are You My Mother? Bechdel draws complex women with warmth, humor, and understanding.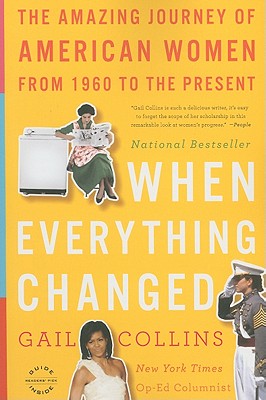 When Everything Changed, Gail Collins
When Everything Changed begins in the 1960's, the era of Mad Men and weight rules for airline stewardesses, and ends in 2008 with Hillary Clinton's run for President. Over the intervening 50 years, feminism made great strides for American women, and yet, there are still ways in which we are held back. This tome, which combines both first-person reflections and interviews with American women, as well as Collins's own research, provides a comprehensive and extremely readable history of American women--how far we've come, and how far we've yet to go.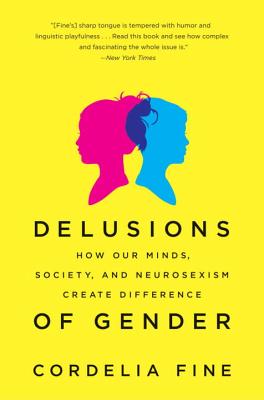 Delusions of Gender, Cordelia Fine
If you've ever thought that there must be something wrong with the claim that men's brains are naturally more mathematical, or women's hard-wired for empathy, read this book. Dr. Fine astutely and passionately debunks the sloppy scientific studies that "prove" hard-wired gendered differences in aptitude and ability, and demonstrates how difficult it really is to make the leap from physiological brain differences to actual human behavior. This book provides a biting, funny, and impeccably researched takedown of the theory that "men are from Mars and women are from Venus," and shows us the ways this belief deeply hurts women and society.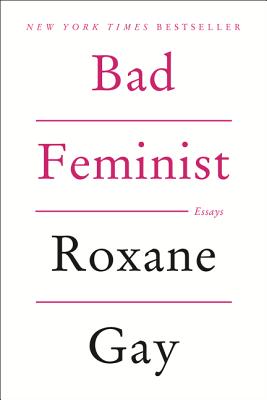 The essays in Bad Feminist read like really, really good blog posts. They're insightful, funny, and of-the-moment. Gay writes about Girls, Fifty Shades of Grey, and the Hunger Games. Bad Feminist is a delightful, conversational discussion of feminism in our culture today.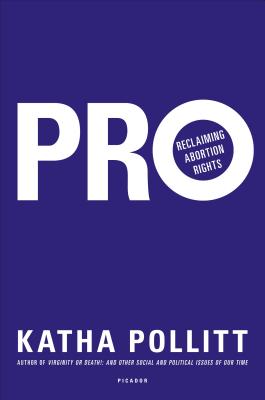 Even those who support a woman's right to an abortion couch their belief in qualifiers--abortion is a "tragedy," or "the hardest decision a woman will ever make." According to Pollitt, not only is this unrealistic (about one in three American woman will have an abortion by the age of 45; many of these women feel fine about their choice), it stigmatizes what should be a normal medical procedure. Abortion, Pollitt argues, is a moral right and a positive social good, and a great deal of the American resistance to abortion stems from a misogynistic fear of women's sexuality and self-determination. If we want woman to have free, fair, and equal lives, we need to bring abortion out of the closet and accept it as a necessary and normal social good.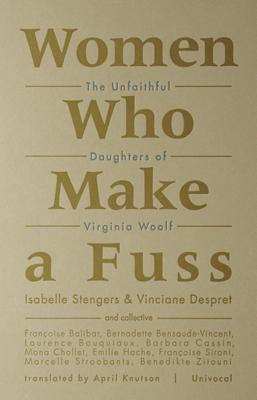 Women Who Make a Fuss: The (Unfaithful) Daughters of Virginia Woolf, Isabelle Stengers and Vinciane Despret
Belgian philosophers Isabelle Stengers and Vinciane Despret sent out a call to women working in universities: how do 'we'--an interrogated and uncertain 'we'--live with the legacy of Virginia Woolf? In Three Guineas, Woolf warned that once women were admitted to the ranks of men, they would no longer be able to make a difference to knowledge and thought, and instead would begin to contribute to ways of being and thinking that work against women. In this book, Stengers and Despret think alongside other women scholars about the possibility of a 'collective adventure' that is 'multiple and ceaselessly reinvented'. They ask: How do we practice thought 'as women'? What do women do to thought? While the book refuses a singular answer, the form of the book goes a way to demonstrate what it is that women can do to thought: in thinking with each other (though not without disagreement) we can create versions of thought that stop us from incessantly plodding toward a 'future which no longer has a future', because in attempting to maintain dignity, we do not make a fuss. As women, forget dignity as a fundamental principle. Be allowed to hesitate. Make a damn nuisance of ourselves.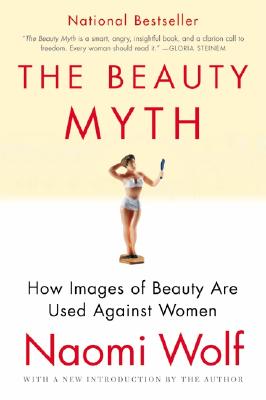 Today, most of us would agree that unrealistic standards of beauty are extremely damaging to women. In 1991, Wolf brought this idea to the forefront of the popular imagination with The Beauty Myth. Although her ideas are no longer new, the Beauty Myth, and the idea that we as women must look a certain way or be punished, is unfortunately just as relevant today as it was 20 years ago.
Fiction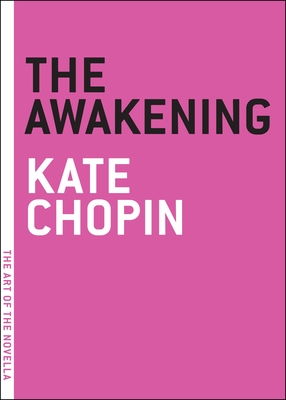 While The Awakening is written like a Victorian novel, the subject matter would be at home in almost any point in Western history. Edna Pontellier's husband is a wealthy New Orleans businessman who treats her with condescending kindness and pays for their high-class life. Edna is supposed to feel grateful for this lack of abuse, but she is suffocating in her limited role as merely a wife and mother. At the beginning of the novel, Edna tells her friend that "I would give up the unessential; I would give my money, I would give my life for my children; but I wouldn't give myself. I can't make it more clear; it's only something which I am beginning to comprehend, which is revealing itself to me." Chopin's novel is a tale of a woman figuring out how to live in possession of herself in a society where such an idea is unheard of.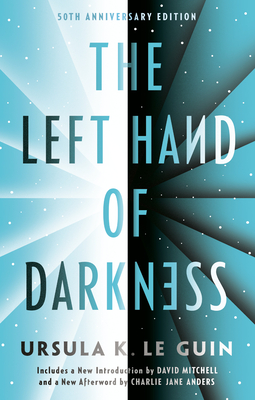 The Left Hand of Darkness, Ursula K. Le Guin
In this science fiction novel, Ursula Le Guin asks the question, "what if gender didn't exist?" Genly Ai, the sole human emissary to the planet of Gethen, finds a world whose inhabitants are neither men nor women, but genderless creatures who go into heat once a month for the sole purpose of procreation. What would politics look like in this world? What about love? In this deeply developed other world, Le Guin makes the point that in a society where all can and do fall pregnant, "nobody here is quite so free as a free male anywhere else".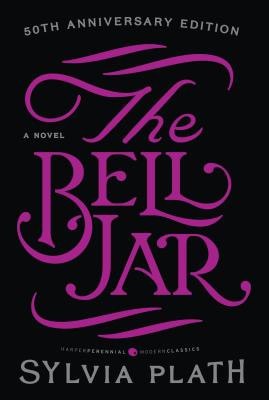 There really isn't anything to say about The Bell Jar that hasn't already been said by people much smarter than me. The novel chronicles the protagonist's descent into mental illness and clinical depression, partially prompted by the limited roles offered to women in the 50s and 60s. If you haven't read The Bell Jar, what are you waiting for?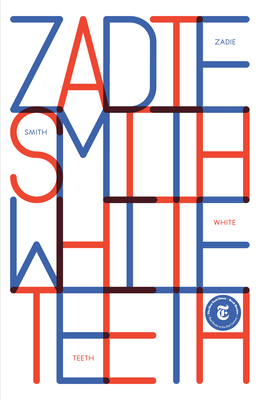 This epic multi-generational novel tells the story of two immigrant families in Northwest London. Smith deals with race, gender, sexuality, and identity in a way that's fantastically funny and bitingly insightful. One of the most compelling characters is Irie Jones, whose experience as a woman intersects with her experience of race, size, and immigration, creating a powerful musing on identity and womanhood.
Created by Arielle, with Bec contributing for Women Who Make A Fuss
Recent blog posts