Q&A and Reading With Charity Scribner
Submitted by maxine@bookcult... on Sun, 03/15/2015 - 6:59pm
We are looking forward to the reading and discussion of Charity Scribner's latest book, After the Red Army Faction on Wednesday, March 18th, at 7pm. An associate professor at the City University of New York, Charity Scribner teaches comparative literature at the Graduate Center and LaGuardia Community College. She is also the author of Requiem for Communism.
Masterminded by women, the Red Army Faction (RAF) terrorized West Germany from the 1970s to the 1990s, and afterimages of its leaders persist in the works of pivotal artists and writers, including Gerhard Richter, Elfriede Jelinek, and Slavoj Zizek. Why were women so prominent in the RAF? What does the continuing cultural response to the German armed struggle tell us about the representation of violence, power, and gender today? In After the Red Army Faction, Charity Scribner engages critical theory to address these questions and analyze signal works that point beyond militancy and terrorism. These works of art and literature expose the failures of the German Far Left and register the radical potential that RAF women actually forfeited.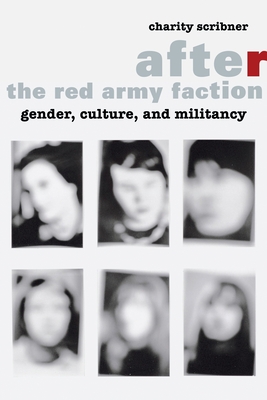 How did you come to write After the Red Army Faction?
My reasons for writing this book are personal, professional, and political. I had the chance to spend several months in Hamburg in 1978, the year after the "German Autumn," when RAF violence exploded across the country and the German government clamped down on anyone suspected of militancy. Even though I was very young, I sensed the tension, and I never forgot it.
Memories of this time came back to me years later, when I was studying at Heidelberg University. As a US citizen I was well aware of anti-American sentiment among certain sectors of the student body. Some of the biggest US Army installations at the time were close by in Mannheim, and the streets were often occupied by people protesting the nuclear arms race.
One night I saw an early performance of Johann Kresnik's performance piece Ulrike Meinhof. More than the choreography and staging, what made the biggest impression on me was the scene that unfolded after the curtains closed. As the audience spilled out onto the open square before the theater, we encountered groups of activists handing out pamphlets and selling books about the RAF, many with illustrations.
The pictures that stayed with me the longest were those of Meinhof.
Who was this woman, and what did she mean to me, a young American studying German? I returned to this question in graduate school at Columbia, where I had the occasion to cross over from comparative literature and write my first paper in art history-- on Gerhard Richter's 18 October 1977 paintings and Hans Magnus Enzensberger's book Mausoleum.
My dissertation and first years of teaching took me in other directions, but two things brought me back to the topics of militancy, terrorism, and its representation. One was the attack on the World Trade Center, which I experienced from the safe distance of 125th Street in Manhattan, while on a brief trip away from my postdoc apartment in Berlin. The other was feminism, my thoughts about feminism and resistance.
My first book—Requiem for Communism (MIT 2003)-- which I had set out to write about gender and socialism, evolved into a project about collective memory. I wanted to write another book in the field of cultural studies that would put women in the middle of the picture. Those were the impulses that generated After the Red Army Faction.
The German confrontation with militancy and terrorism has been a particularly useful platform for exploring the sexual politics of revolutionary violence. Today we are starting to see related patterns in the evolution of Islamic Jihad.
What are you currently reading?
I'm in the beginning of my spring semester now, so I only have time to read books related to my courses. At the moment we are working on Hegel's Phenomenology of Spirit in a theory seminar I'm teaching. Since the terrorist attacks in Paris earlier this year I have also spent a lot of time reading the European press online. Le Monde, Die Zeit, and The Guardian are bookmarked on my computer, as is Al Jazeera.
Do you have a personal favorite book of all time? If so, can you share it and tell us why?
I'm trained in literary criticism so I actually love to hate books, but of course I love the ones that make me cry. My list of favorites is in constant motion. I remember having a big response to Jhumpa Lahiri's The Lowland last year. I'm trying to write something about it now.
Is there anything you are particularly looking forward to the publication of?
Not a book, but there's a film I'm curious about: Nina, a "biopic" about the American musician Nina Simone that has been in a stalled state of preproduction for some time. I've read that there are major flaws in the film, but I'm deeply interested in Simone's work and career, so I will have to find a way to see it.
What's next? Any upcoming book projects in the works that you can tell us about?
An editor has asked me if I might write a third book, related to After the Red Army Faction, but in a transnational frame. "Militancy and Culture," something like that. I do think there's a lot more to be considered with regard to the question of militancy and resistance, in culture and politics. I'd like to write a few essays—on Nina Simone, on the French filmmaker Olivier Assayas—and then I'd like to do my homework and consider the correspondences between 20th-century forms of militancy and the emergent formations of Islamic radicalism.
Recent blog posts