Q&A and Reading with Julian E. Zelizer
Submitted by maxine@bookcult... on Thu, 03/19/2015 - 6:14pm
This Monday, March 23rd, Julian E. Zelizer will launch his latest book, The Fierce Urgency of Now: Lyndon Johnson, Congress, and the Battle for the Great Society. Julian E. Zelizer is a professor of history and public affairs at Princeton University and a fellow at New America. He is the author and editor of numerous books that examine U.S. political leaders, policies, and institutions since the New Deal, including Jimmy Carter and Arsenal of Democracy: The Politics of National Security—from World War II to the War on Terrorism. Zelizer is a well-known commentator on television and on radio and in print media.
Looking forward to the upcoming event, we had the chance to ask Julian a few questions about the development of his new book and his upcoming projects.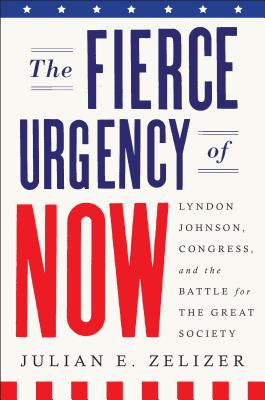 How did you come to write The Fierce Urgency of Now?
We live in an era where the federal government seems incapable of producing almost any major legislation. I wanted to understand how things have been different in the past. The mid-1960s was the natural place to start.
I have been writing about the 1960s for several decades, and I always wanted to bring different pieces of the story—social movements, Congress, the presidency, interest groups, and the media—together in a bigger synthesis. Despite all the work on the 1960s, there hasn't actually been a good narrative of this sort since Alan Matusow's, The Unraveling of America.
I have also been fascinated with Lyndon Johnson and Congress since early in my career. I never bought into the argument that this watershed moment was a natural outgrowth of a liberal era in U.S. History or a relatively easy accomplishment by a powerful president. I was always skeptical about all the talk of Johnson's legendary political powers ("The Treatment").
This is my effort to write a book about this important president that pays close attention to Congress and the political environment within which he operated.
What are you currently reading?
Two books that I have read recently are Matt Bai's All the Truth is Out and John Barry's, The Ambition and Power. I am soon going to start George Herken's The Georgetown Set.
Other than that, I'm deep in the archives starting a new book.
Do you have a personal favorite book of all time? If so, can you share it and tell us why?
My favorite book ever is Richard Hofstadter's The Age of Reform. I have read this book so many times since college, yet with each reading I learn something new. Hofstadter is a real role model of the public intellectual who kept producing work that also mattered in the academy. This book, like his others, asked big questions and Hofstadter wasn't scared to put forth some huge arguments.
Is there anything you are particularly looking forward to the publication of?
I'm looking forward to reading David Axelrod's memoirs.
What's next? Any upcoming book projects in the works that you can tell us about?
I am writing a book about the scandal that brought down Speaker of the House Jim Wright in 1989.
Recent blog posts