Q&A and Reading with Heather Cocks & Jessica Morgan
Submitted by info@bookculture.com on Sat, 04/04/2015 - 11:49am
Ever wonder what the married of Kate Middleton and Prince William is like behind all the glam and glitz of royalty? Join authors Heather Cocks and Jessica Morgan at Book Culture on Columbus this Tuesday at 7pm for the launch of their latest book, The Royal We. The premise of The Royal We is simple: what if, rather than meeting Kate Middleton in college, the future king of England, has met an American foreign exchange student? Although inspired by the Duke and Duchess of Cambridge, The Royal We is very much its own story. Packed with fully-drawn characters that readers will absolutely fall in love with, relationships that feel real, authentic and relatable, this smartly-written story is pleasure-reading at its best.
Longtime friends, Heather Cocks and Jessica Morgan have been writing together since 2004, when they co-founded Go Fug Yourself, a popular snarky celebrity-fashion site. But it was their love of cheesy TV, Sweet Valley High, and sports that first brought them together. Together, they've penned two young adult novels — Spoiled and Messy— and The Royal We, a work of adult contemporary fiction based loosely on the courtship of Prince William and Kate Middleton. They have also written for various publications, ranging from Grazia to New York to Redbook.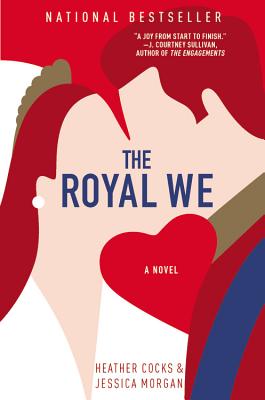 How did you come to write The Royal We?
JESSICA: It came to fruition during a conversation with our wonderful agent, Brettne Bloom. She and Heather and I were talking sort of generally about Kate Middleton's life, and how the actual experience of being Kate was surely more complicated and much harder and considerably more surreal than the spit-shined bits that the public ever sees. And Brettne said, "I think that would make a good book," and Heather and I were like, "....that WOULD make a good book."
What are you currently reading?
JESSICA: I am currently reading Helen Rappaport's The Romanov Sisters. It's compelling and tragic and so good.
HEATHER: I am re-reading Kate Chopin's The Awakening and, like half of America, am about to crack open The Girl on the Train.
Do you have a personal favorite book of all time? If so, can you share it and tell us why?
JESSICA: I don't think I could possibly pick just one. So many books are important to me -- from Little Women, which I've reread at least ten times, to Scruples, which I've forced a variety of people to read by noting that Judith Krantz is the master of the beach read (and that her heroines ALWAYS have an interesting career), to Curtis Sittenfeld's Prep, which I love. Picking one favorite book feels impossible to me.
HEATHER: I feel the same way. But my re-reads right now, and probably over the past decade, are Jasper Fforde's Thursday Next series -- mostly the first three -- and the entire Harry Potter series. They are my comfort food in book form.
Is there anything you are particularly looking forward to the publication of?
JESSICA: Yes. When I found out that Kate Atkinson has a follow-up to Life After Life coming out in May, I literally shrieked and then sent an all-caps text to a friend about it. So...I'm pretty excited about that.
HEATHER: I'm not actually up on any of that stuff! I NEVER know what's coming out until I read it in one of the entertainment bibles. But there's a book due out a week after ours by Shanna Mahin, called Oh! You Pretty Things, that I'm excited to read -- it's gotten great reviews AND we're on a panel with her at the Los Angeles Times Festival of Books. I want to read our other co-panelist Chris Noxon's book, too. It's called Plus One. They both look juicy.
What's next? Any upcoming book projects in the works that you can tell us about?
JESSICA: We don't have our next book project nailed down yet. We really just put the very finishing touches on The Royal We in January, so I think we're still in the process of emerging from a fictional Great Britain. We're rattling some new ideas around, though.
HEATHER: I know there are people who can just motor from one novel to the next, and I WISH I was one of those people, but I'm not. I'm like a cup of tea. I need to steep for a bit. Fortunately, we have our website Go Fug Yourself to keep us busy in the meantime.
Recent blog posts