Q&A and Reading with Victoria Redel of Uptown Poets
Submitted by maxine@bookcult... on Mon, 04/27/2015 - 2:01pm
As part of our continued celebration of National Poetry Month, we are looking forward to the Uptown Poets Reading this Thursday, April 30th, at 7pm. The reading will take place at Book Culture Columbus and will feature readings by Miranda Field, John Reed, Victoria Redel, Honor Moore, and Leah Umansky.
This post will feature a Q&A with Victoria Redel, the author of three books of poetry and four books of fiction, most recently a collection of stories, Make Me Do Things (Four Way Books, 2014). Woman Without Umbrella is the third collection from Redel and follows the poet and a brace of her characters through romantic and familial episodes, from youth to late middle age, from moments when everything seems new to "babies grown, gone from home," "death/ of an old school friend." Redel's fiction, poetry and essays have appeared in numerous magazines and journals including Granta.com., Harvard Review, The Quarterly, The Literarian, The New York Times, The L.A. Times, O the Oprah magazine, Elle, Bomb, More and NOON.
Stay tuned for more Q&As before Thursday's event!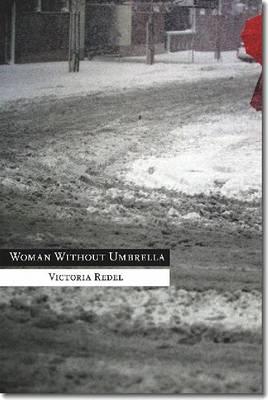 How did you come to Woman Without Umbrella?
Poems come to me through an initial image or sentence that occurs to me and which immediately has some strong scent of either rightness or wrongness. Either way it is a scent I somehow need to follow and figure out. Probably midway through a new collection of poems, I realize that I'm kind of chasing a similar scent or question through the group of poems and that trajectory or slight narrative becomes the arc of the collection. In Woman Without Umbrella I was interested in following multiple characters, women mostly. I was interested in following the ways we continue to find hope and the possibility of change or grace. Sometimes I imagined mythological figures, or fairytale figures if they continued to age. Sometimes I watched the gesture of a person on the street and imagined a fuller life.
What are you currently reading?
I've been reading a good deal of fiction and non-fiction. I just finished the Deep Down Dark, which is about the 33 chilean miners who were trapped in a mine a few years ago. An extraordinary piece of journalism by Hector Tobar and a story of extraordinary human texture and heart. I've also just finished the Elena Ferrante trilogy and the Knausgaard trilogy. I'm fascinated thinking about these two works side by side.
Do you have a personal favorite book or work of all time? If so, can you share it and tell us why?
I have so many person favorites, so many books that feel essential to me. The poems of Adrienne Rich, Phil Levine, William Bronk— very different poets of the same generation but all three were essential poets for me in my life in poetry.
What's next? Any upcoming book projects in the works that you can tell us about?
I'm working on a novel but anything I could say about it at this point would be pretty incoherent.
Recent blog posts