Q&A and Reading with Ann Morgan
Submitted by maxine@bookcult... on Tue, 05/05/2015 - 2:35pm
Tonight at 7pm, Ann Morgan will celebrate the release of her latest book, The World Between Two Covers at our 112th store.
Ann Morgan writes in the opening of The World Between Two Covers, "I glanced up at my bookshelves, the proud record of more than twenty years of reading, and found a host of English and North American greats starting down at me I had barely touched a work by a foreign language author in years The awful truth dawned. I was a literary xenophobe."
Prompted to read a book translated into English from each of the world's 195 UN-recognized countries (plus Taiwan and one extra), Ann sought out classics, folktales, current favorites and commercial triumphs, novels, short stories, memoirs, and countless mixtures of all these things. The world between two covers, the world to which Ann introduces us with affection and no small measure of wit, is a world rich in the kind of narratives that engage us passionately: we meet an irreverent junk food obsessed heroine in Kuwait, an explorer from Togo who spent years among the Inuit in Greenland, and a former child circus performer of Roma background seeking sanctuary in Switzerland. Ann's quest explores issues that affect us all: personal, political, national, and global. What is cultural heritage? How do we define national identity? Is it possible to overcome censorship and propaganda? And, above all, why and how should we read from other cultures, languages, and traditions? Illuminating and inspiring, The World Between Two Covers welcomes us into the global community of stories.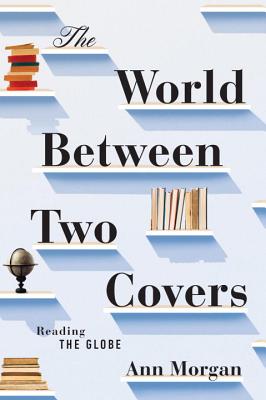 How did you come to write The World Between Two Covers?
The book came out of my blog, ayearofreadingtheworld.com, for which I spent 2012 reading one book from every country (with a lot of help from booklovers all over the planet). During that project, I came across lots of fascinating issues that I just didn't have time to explore in depth in the book-review posts on the blog. As the project got more and more attention, people started to suggest that I should think about doing a book. I jumped at the chance and the book became the opportunity to explore the big ideas that my quest had brought up for me: questions about what we mean by national identity, authenticity, translation and censorship, and how stories have the power to shape and change us. At first I thought the book would be closely tied to the story of my year of reading the world, but as I wrote, it took on an identity of its own. Although it does bring in a lot of the people and books I encountered that year, it also ventures much further into other research and stories, as well as reading experiences from throughout my life.
What are you currently reading?
I have just finished a book called Bronze and Sunflower by writer Cao Wenxuan, who is often referred to as the Chinese Hans Christian Andersen. It's a children's book, but is a very engrossing and beautiful story set during the Cultural Revolution. In fact, I liked it so much that I made it my April Book of the month on my blog (http://ayearofreadingtheworld.com/2015/04/28/book-of-the-month-cao-wenxuan/). When I finish this interview, I'll be curling up with The Paying Guests by Sarah Waters. After that, I'm planning on venturing into some of the amazing Mexican fiction that's come out in recent years – first on my list is Leonora by Elena Poniatowska. I met her briefly at the London Book Fair a couple of weeks ago and she signed my copy, so I'm excited about that.
Do you have a personal favorite book of all time? If so, can you share it and tell us why?
There's no way I could pick one. People often ask me this about the books I read for my quest and I can never give an answer. I did put together a list of my ten favorite commercially available reads from the quest, which is in the FAQs on my blog, but even that is slightly frustrating as many of the great books I read that year were not commercially available, having come to me as unpublished manuscripts – some of them produced specially for my project.
Is there anything you are particularly looking forward to the publication of?
Gosh. So much. It's already out in e-book, but I'm very excited about The Physics of Sorrow by Bulgarian writer Georgi Gospodinov. I read his Natural Novel for my project and it was an amazing book. I think the paperback is out in August, so I'm champing at the bit to read that.
What's next? Any upcoming book projects in the works that you can tell us about?
Yes! Excitingly, Bloomsbury will be publishing my novel, Beside Myself, worldwide in English next year. It's a literary thriller about identical twin girls who swap places and then grow up with the wrong lives when one refuses to swap back. I've dreamed of being a novelist since I was a child (I tried to write my first novel when I was seven), so I'm thrilled to bits about this.