Q&A and Reading With Eve Yohalem
Submitted by info@bookculture.com on Wed, 05/13/2015 - 9:28pm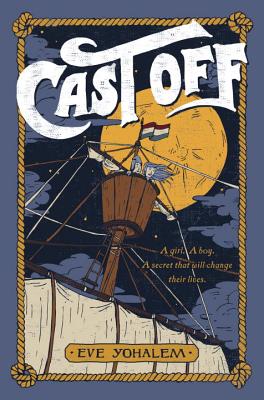 On Friday, May 15th, at 4:30pm, Eve Yohalem will lauch her new middle grades novel, Cast Off: The Strange Adventures of Petra de Winter and Bram Boen! Eve Yohalem's prior books include Escape Under the Forever Sky, Grandpa Hates the Bird, and Starry Eyed. She lives in New York City with her family.
About Cast Off:
It's 1663, and twelve-year-old Petra sees only one way to escape her abusive father: She stows away on a merchant ship bound for the East Indies. But she quickly realizes that surviving for months at sea will be impossible without help. So when Bram, the illegitimate, half-Dutch/half-Javanese son of the ship's carpenter, finds her hiding spot, Petra convinces him to help her stay hidden. As tensions rise on the ship, with pirate attacks, illness, and even mutiny, both Petra and Bram must make impossible decisions about friendship, loyalty, freedom, and survival. Told in alternating voices and filled with secrets and intrigue, this action-packed, richly researched novel is historical fiction at its best.
How did you come to write Cast Off?
Let me apologize in advance, because I have a really annoying answer to this question. The inspiration for Cast Off came from a newspaper article I saw in 2004, but I can't say what the article was about because it would give away a major spoiler for book two in this three-part story. What I can say is that once I read this article it got me thinking about what it means to be human, especially during a time—the 17th century—when humans were doing extraordinary things like exploring the globe by sea and terrible things like the Atlantic slave trade.
What are you currently reading?
I just finished Half Wild, Sally Green's sequel to Half Bad, and before that I read H Is for Hawk by Helen Macdonald, and The War That Saved My Life by Kimberly Brubaker Bradley. I loved them all! I've just started All The Light We Cannot See by Anthony Doerr – so far so good.
Do you have a personal favorite book of all time? If so, can you share it and tell us why?
That's an impossible question, and you know it! Here are a few of the books that will stick with me forever: Angle of Repose by Wallace Stegner for the deep truths of his relationships; the entire George and Martha series by James Marshall because of their wonderful friendship; Neil Gaiman's The Graveyard Book for it's opening line ("There was a hand in the darkness, and it held a knife"); and, of course, Patrick O'Brian's Master and Commander series, because the heroes Jack Aubrey and Stephen Maturin feel like soulmates, and the books gave me an undying love of nautical historical fiction.
Is there anything you are particularly looking forward to the publication of?
Symphony for the City of the Dead: Dmitri Shostakovich and the Siege of Leningrad by MT Anderson, which is coming out in September. I trained as an opera singer and MT Anderson is one of my favorite authors. Done!
What's next? Any upcoming book projects in the works that you can tell us about?
I'm working on a new middle grade novel called True Fact. It takes place now and it's about a 12-year-old girl searching for lost treasure in the Long Island Sound.