Q&A with Ann Hedreen, author of "Her Beautiful Brain"
Submitted by CodyStuart on Fri, 05/22/2015 - 5:31pm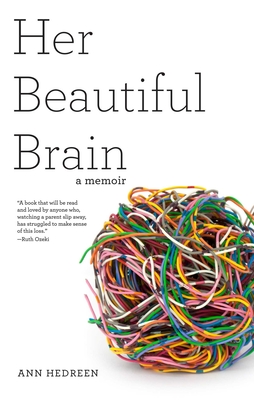 On Tuesday, May 26th, at 7pm, Ann Hedreen will launch her memoir, Her Beautiful Brain, at Book Culture on Columbus. Ann Hedreen is a writer, teacher, filmmaker and voice of the radio podcast and blog, The Restless Nest. Together, she and her husband Rustin Thompson have made more than 100 films, including five full-length documentaries. Her writing has also appeared in Seattle Metropolitan Magazine, Courageous Creativity, the Seattle Times and other publications. She lives in Seattle.
Her Beautiful Brain is Ann Hedreen's story of what it was like to become a mom just as her beautiful, brainy mother began to lose her mind to an unforgiving disease. Arlene was a copper miner's daughter who was divorced twice, widowed once, raised six kids singlehandedly, survived the turbulent 60s, and got her B.A. and M.A. at 40 so she could support her family as a Seattle schoolteacher only to start showing signs of Alzheimer's disease in her late fifties, taking Ann and her siblings on a long descent they never could have anticipated or imagined...Her Beautiful Brain tells the heartbreaking story of a daughter's love for a mother who is lost in the wilderness of an unpredictable and harrowing illness.
We would like to thank Ann for taking the time to answer our Q&A and for sharing her work with us!
How did you come to write Her Beautiful Brain?
Without quite realizing it at the time, I took the first steps toward writing Her Beautiful Brain in 2004, when my husband and I made a documentary starring my mother called Quick Brown Fox: an Alzheimer's Story. After making that film, I realized I had so much more to say about my mom's life, about how her life shaped mine and about Alzheimer's disease. I also began to understand that, while I love filmmaking (which is what I do for a living), I have been a writer since I could hold a pencil and I longed to write much more than I was then writing as a filmmaker and occasional journalist.
What are you currently reading?
I just finished Huston Smith's Why Religion Matters. What a bracing workout of a book! I also ripped through Kate Atkinson's Life After Life and Penelope Fitzgerald's The Bookshop.Next up: Sarahlee Lawrence's memoir, River House, which is about so many things that matter to me: family, Western roots, landscape.
Do you have a personal favorite book of all time? If so, can you share it and tell us why?
Before I even knew the word "memoir," I read Gerda Weissmann Klein's All But My Life, her heart-stopping account of surviving the Holocaust. It shook me right out of my pre-teen-in-Seattle innocence. I walked around thinking: How can I ever be the same person after reading this book? Klein made me understand the power of one person's real story.
Is there anything you are particularly looking forward to the publication of?
I'm excited about Allison Green's The Ghosts Who Traveled With Me: a literary pilgrimage through Brautigan's America, out in June from Ooligan Press. And I cannot wait to see where Ruth Ozeki's imagination will go next after A Tale for the Time Being.
What's next? Any upcoming book projects in the works that you can tell us about?
My current writing project is a documentary film called Zona Intangible, set in Peru. It will be a blend of journalism and memoir: there's a family angle—my great uncle lived there—and there are themes of home and migration. I'm also working on a memoir about faith and doubt called The Observant Doubter. And I'm putting together a collection of my short radio/blog essays called The Restless Nest.
Recent blog posts