Q&A and Reading with Eliza Kennedy, author of "I Take You"
Submitted by maxine@bookcult... on Mon, 06/08/2015 - 5:25pm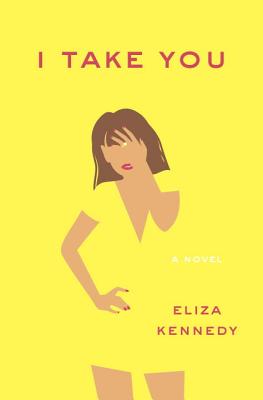 We are so excited for the launch event with Eliza Kennedy and Jane Green this Tuesday, June 9th, at 7pm! Looking forward to the event, we had the chance to ask Eliza Kennedy, author of I Take You--soon to be a film produced by Toby Maguire!--a few questions about her debut novel and upcoming work.
Eliza Kennedy attended the University of Iowa and Harvard Law School, where she was an editor of the Harvard Law Review. After graduation she served as a law clerk for a federal judge, then practiced litigation for several years at a prestigious Manhattan law firm. She lives in New York with her husband and son. I Take You is her first novel.
How did you come to write I Take You?
I was running on a treadmill at the gym, bored and irritated. I started thinking about an effort I'd made years earlier to write a novel about a wedding, and why I had failed. A question popped into my head: What if the bride didn't want to get married? Followed by another question: Why not? And finally, an answer: Because she loves to sleep around. I raced home and wrote the first chapter that afternoon.
This is the only good thing that has ever happened to me at a gym.
What are you currently reading?
Patrick Leigh Fermor's
A Time of Gifts
, a memoir of the time he spent as a teenager walking through 1930s Europe, which that has convinced me that the time I spent in college was completely wasted; and
The Collected Poems
of Jack Gilbert.
Do you have a personal favorite book of all time? If so, can you share it and tell us why?
One of my favorites is
Ada, or Ardor,
by Vladimir Nabokov. I tore through it, and as soon as I was finished I turned back to page one and started over. It's lush and dense and sexy and funny and magical and nonsensical, the kind of novel you fall into headfirst and have to paddle very very hard to keep yourself from drowning in. Worth it.
What's next? Any upcoming book projects in the works that you can tell us about?
I'm halfway finished with my next novel, which, like my first, is about sex and infidelity, with a sprinkling of law.