Q&A with Seth Rudetsky, author of "The Rise and Fall of a Theater Geek"
Submitted by andrea@bookcult... on Sat, 06/27/2015 - 6:10pm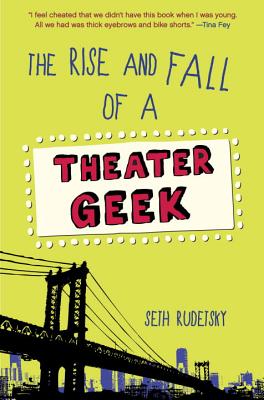 We're so excited that Seth Rudetsky was able to stop by and sign some copies of his new book, The Rise and Fall of a Theater Geek. Seth has worked as the music director and/or pianist for some of Broadway's biggest stars: Audra McDonald, Andrea Martin, Brian Stokes Mitchell, Megan Mullally, Kristin Chenoweth, Idina Menzel, Patti LuPone, Christine Ebersole, Megan Hilty and many more. He spent years as a pianist on Broadway playing such shows as Les Miz, The Producers and Ragtime and currently divides his time between being the afternoon deejay on the SiriusXM Broadway channel/ host of Seth Speaks as well as touring North America doing his show Deconstructing Broadway. His novel, My Awesome/Awful Popularity Plan, was published by Random House and the sequel The Rise and Fall of a Theater Geek comes out in 2015. You can watch all of Seth's videos on SethTV.com.
How did you come to write The Rise and Fall of a Theater Geek?
I wanted to write a young adult book that was funny. I have a fourteen-year-old kid, and I love reading the Wimpy Kid series to her. Those books are hilarious! One of my favorite TV shows of all time is I Love Lucy, and my lead character, Justin Goldblatt, is basically a sixteen-year-old version of Lucy Ricardo— obsessed with show business and constantly scheming to get what he wants. The only difference is that she had red hair and he has a "Jewfro." I also wanted to mix genres; the book is a comedy, but it's also a Broadway book, but it's also a mystery!
What are you reading?
I have an addiction to reading. I like all types of books. I just did a concert with Vanessa Williams in San Francisco and got her autobiography afterward. It's so great! I just finished reading the young adult book The Coolest Girl in Coldtown, which I really enjoyed. And as I write this, I'm on a plane and took a break from reading Jodi Picoult's My Sister's Keeper.
Do you have a favorite book of all time? If so, can you share it and tell us why?
AH! Don't make me. So, so many. I will say I loved Philip Pullman's His Dark Materials so much (starting with The Golden Compass). The story is riveting. The world he creates is fascinating. (Every person has a daemon . . . an animal that is constantly with them.) His view of spirituality is brilliant. The sacrifices his characters make are so moving. As for recently, I loved What Alice Forgot. Such a beautiful book about appreciating the relationships we're in. Literally crying at the end. Wait . . . I sound so serious. OK . . . comedy-wise, nothing is funnier to me than Joe Keenan's Blue Heaven. At one point, the lead character meets an older woman who claims she was "quite a beauty in her day." He finds it hard to believe, unless at one point she had an accident in which she'd lost her chin. It sounds mean, but it's hi-larious.
Is there anything you are particularly looking forward to the publication of?
YES! Who isn't obsessing about the To Kill a Mockingbird sequel? Or is a prequel? Whatever! I want it. Also, I'm hoping and praying for another Ann Rule true-crime book.
What's next? Any upcoming projects in the works that you can tell us about?
I am working in Provincetown at the Art House almost every week this summer doing my Broadway@ series where I interview stars and have them sing tons of songs. You can see some of the past concerts I've done with Sutton Foster and Patti LuPone on www.SethTV.com.
This summer I'll be performing with Audra McDonald, Neill Patrick Harris plus Matthew Broderick and Sarah Jessica Parker! Also, I co-wrote a show called Disaster! which is a musical homage to the 1970's disaster films (www.DisasterMusical.com). We played off-Broadway and got great reviews and it looks like we're going to open on Broadway in the coming season. And I'm in it. Hopefully this theater geek will have a rise without a fall!
Recent blog posts