Q&A with Tim Weiner, author of "One Man Against the World"
Submitted by andrea@bookcult... on Sun, 06/28/2015 - 12:00pm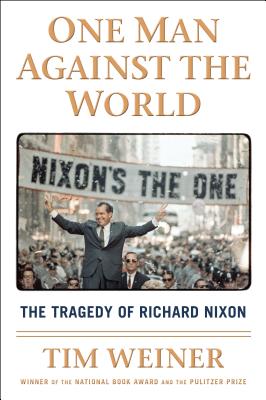 Tim Weiner came in earlier this week to answer our questions and sign some copies of his new book, One Man Against the World: The Tragedy of Richard Nixon. Stop by our 112th St. store and get a copy before they're gone!
Tim Weiner is the author of five books. Legacy of Ashes, his history of the CIA, won the National Book Award. His journalism on secret government programs received the Pulitzer Prize for national reporting. As a correspondent for The New York Times, he covered war and terrorism in Afghanistan, Pakistan, the Sudan, and other nations. He directs the Carey Institute's nonfiction residency program in upstate New York and teaches as an Anschutz Distinguished Fellow in American Studies at Princeton.
Based largely on documents declassified only in the last few years, One Man Against the World paints a devastating portrait of a tortured yet brilliant man who led the country largely according to a deep-seated insecurity and distrust of not only his cabinet and congress, but the American population at large. In riveting, tick-tock prose, Weiner illuminates how the Vietnam War and the Watergate controversy that brought about Nixon's demise were inextricably linked. From the hail of garbage and curses that awaited Nixon upon his arrival at the White House, when he became the president of a nation as deeply divided as it had been since the end of the Civil War, to the unprecedented action Nixon took against American citizens, who he considered as traitorous as the army of North Vietnam, to the infamous break-in and the tapes that bear remarkable record of the most intimate and damning conversations between the president and his confidantes, Weiner narrates the history of Nixon's anguished presidency in fascinating and fresh detail.
We'd like to thank Tim for taking the time to come out and sign some books and for answering our questions!
How did you come to write One Man Against the World?
I found out while giving a speech at the Nixon Presidential Library in California in February 2013 that all the secret White House tapes and thousands of classified Nixon presidential documents would be released in 18 months. I determined to be the first author to pounce on them and write a complete history of his presidency.
Do you have a personal favorite book of all time?
One among many: The March of Folly by Barbara Tuchman. Why did the Trojans take in that horse? Why were we in Vietnam? Folly: Deliberate acts of statecraft contrary to the best interests of the state.
What's next?
A book tentatively titled The Warrior in the White House: how ten presidents have gone to war since 1945 with the most powerful military force on earth -- and lost time and time again.
Recent blog posts