Please allow 5-10 days for order processing for ALL orders, in addition to shipping times.

We are currently working with very limited staffing and your patience is greatly appreciated. Thank you!
Q&A with Andrew Maraniss, author of "Strong Inside "
Submitted by andrea@bookcult... on Wed, 08/19/2015 - 12:49pm
Are you curious about Perry Wallace? Ever wonder what Andrew Maraniss reads for fun? Check out our Q&A with Maraniss below!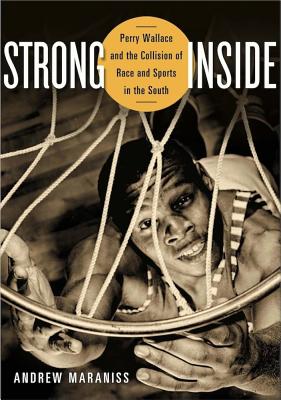 Synopsis: Based on more than eighty interviews, this fast-paced, richly detailed biography of Perry Wallace, the first African American basketball player in the SEC, digs deep beneath the surface to reveal a more complicated and profound story of sports pioneering than we've come to expect from the genre. Perry Wallace's unusually insightful and honest introspection reveals his inner thoughts throughout his journey.
About the author: Formerly the associate director of media relations at the Vanderbilt athletic department and the first-ever media relations manager for the Tampa Bay Rays, Andrew Maraniss is now a partner at McNeely Pigott & Fox Public Relations. Andrew, the son of Pulitzer Prize-winning journalist David Maraniss, attended Vanderbilt on the Fred Russell-Grantland Rice sportswriting scholarship. As a sophomore, he first interviewed Wallace in 1989 for a black history class.
1) How did you come to write Strong Inside?
My interest in Perry Wallace goes back to 1989, when I was a 19-year-old sophomore at Vanderbilt University in Nashville. I happened to read a student magazine article about his first road game at Mississippi State, in Starkville, Miss., in 1967. I had come to Vanderbilt on a sports writing scholarship and was a history major; reading about the vicious racism Wallace encountered in that game grabbed my attention. Here was the "Jackie Robinson of the Deep South," someone who had gone to my college, and yet nobody really had ever heard of him before. I wrote two papers about him for Black History courses I was taking. Over the years, I remained interested in his story and I came back to it years later when I decided I wanted to write this book. Wallace's experience as a solitary, smart and sensitive pioneer in the Deep South was the most interesting thing I had ever heard that had never been told in any large sense. I spent eight years working on the book at nights and weekends outside of my job.
2) What about Perry Wallace captured your interest?
Perry Wallace the man is one of the most brilliant, thoughtful, insightful people I have met. After earning his engineering degree at Vanderbilt, he earned his law degree at Columbia University, worked as a trial attorney for the U.S. Justice Department and is now a law professor at American University. He speaks multiple languages, sings opera, does karate. So he's always been far more than just a basketball player. But what really captured my interest in telling this story was the ability to put one pioneer's experience into the context of the place and times in which he operated. In Perry's case, that meant writing about how his struggles on campus, on the basketball court, and on the road throughout the Deep South fit into the civil rights movement in Nashville and across the South during the late 1960s. Figures like Martin Luther King, Stokely Carmichael, Fannie Lou Hamer and Robert F. Kennedy all made their way through Nashville during this time. Wallace interacted with them, and they appear in the book. There's a reconciliation and healing side to the story that was very appealing, too. Even for those who were around Wallace in the 1960s, witnessing what he was doing, it took decades in many instances for them to fully appreciate his journey or to see the world through his eyes. In that respect, the book has arrived at the right time. We're still struggling with many of the same issues of race and awareness.
3) What are you currently reading?
I just finished reading the Advance Reader Copy of my father's (Pulitzer Prize winner David Maraniss) latest book, which comes out in mid-September. The book is titled Once In a Great City: A Detroit Story, a fascinating snapshot of Detroit in the early 1960s, when the city was in many ways on top of the world.
4) Do you have a personal favorite book of all time? If so, can you share it and tell us why?
I have struggled to answer this question. Seems like everyone should have a favorite book of all-time, but I have a tough time with it. I also couldn't say what my favorite movie or restaurant or song of all-time is, either. I have many favorite books, or types of books, but none that I return to constantly. My favorites are all narrative non-fiction, either the kind of detailed history that makes the reader feel transported back to a specific place and time (such as books by my father or Erik Larson), or "fly on the wall" books that follow a character or a team through a specific crisis or season (such as many of Bob Woodward's or John Feinstein's books). For better or worse (and likely for worse, I realize!), I've never been interested in fiction.
5) What's next? Any upcoming book projects in the works that you can tell us about?
The pattern with Strong Inside has been a nice slow build. People are discovering it all the time and many different types of additional projects have been proposed to share Perry Wallace's story with new audiences. I have been in talks with people about everything from a one-man play to a documentary to a young adult title to a feature film. I'm excited to see where all those ideas might lead.