Q&A With Miles Klee
Please allow 5-10 days for order processing for ALL orders, in addition to shipping times.

We are currently working with very limited staffing and your patience is greatly appreciated. Thank you!
Submitted by andrea@bookcult... on Mon, 09/14/2015 - 4:55pm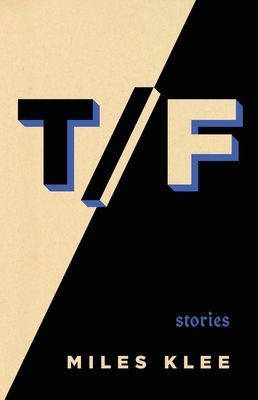 In preparation for our event with Miles Klee this Thursday, September 17th, we asked him to answer a few of our questions. See his answers below, an make sure to come out an hear him talk about his book, True/False on September 17th at 7pm!
Miles Klee was born in Brooklyn. He studied at Williams College under writers Jim Shepard, Andrea Barrett and Paul Park, and now lives in Manhattan. His debut novel, Ivyland (OR Books 2012), drew glowing reviews and was likened to "J.G. Ballard zapped with a thousand volts of electricity" by the Wall Street Journal, later becoming a finalist in the 2013 Tournament of Books. Klee reports for web culture site the Daily Dot; his essays, satire, and fiction have appeared in Lapham's Quarterly, Vanity Fair, 3:AM,Salon, The Awl, The New York Observer, The Millions, The Village Voice, The Brooklyn Rail, Flavorwire and elsewhere.
1) How did you come to write True/False?
I've only ever written short stories, in a sense. The first ones I wrote I found a way to suture together as a novel. This time I wanted each story to stand on its own. These were pieces I was submitting to and publishing in little magazines and websites from 2009 or so through last year, so it's a collection of maybe five years of sporadic work I could finish while toiling in a day job and freelance writing gigs that actually kept me alive with paychecks. Because so many of these stories took an autobiographical, essayistic, almost uninflected turn, it didn't feel right to present the book as pure fiction—which explains the title. I liked the idea of having unrepentant surrealism collide with the quotidian and mundane.
2) It's been a couple years, but I remember Ivyland as a collection of narratives set in the same speculative future. It felt almost anthropological, connecting different vantage points together into one story. How was constructing T/F different for you?
It freed me up to get in and out of an isolated narrative very quickly. Some of these flash pieces are the work of a single afternoon—though some of the longer stories didn't come together for many months. Some have the same impressionistic quality of Ivyland: related ideas strung together in a sequence that gives them an arc. I guess the nice thing was that there was none of the stress of binding together a bunch of disparate pieces into what could be called a novel. Now all these things can just swim around next to each other, and readers can draw whatever connections and parallels they want.
3) Similar to Ivyland, there is an uncanny darkness in many of these stories. Where does that come from?
I'm always writing things that I think are at least a little bit funny, even if bleakly so, but sometimes it makes the people who know me a little concerned about where my head's at—as if I have a very relaxed exterior but always harbor these dark ideas and a sense of humor that's morbid at best. Writing for me is always going to be somewhat about exorcising demons, which is to say dragging them into the light—and often without totally realizing which ones I'm calling to account. I just have to hope that readers might be as hypnotized by that self-interrogation as I am. But I imagine terror of unreality as universal.

4) What are you currently reading?
Lately I'm always buying a new
Muriel Spark
book to replace the one I'm about to finish. But anything ghoulish and cold with a whiff of pure evil is required reading for me.
5) Do you have a personal favorite book of all time? If so, can you share it and tell us why?
Every year I read a book that's the best I've ever read. This past year it may have been Shirley Jackson's
We Have Always Lived in the Castle
. I know I had this feeling about Graham Greene's
Our Man in Havana
a few years ago—there's some of that feel in the novella that concludes
True False
. At some point it was Thomas Bernhard's
Woodcutters.
I can't commit to one, but my favorite book is reliably short and ripping, deadly serious yet scandalously entertaining, a work that has the consistency of finely distilled poison. I want to look down into an abyss from a tightrope.
6) Is there anything you are particularly looking forward to the publication of?
Lately I've been writing with a collaborator, and we've just had our first couple of stories accepted, so I'm greatly anticipating those publications. I was also quite keen to read Michel Houellebecq's Submission, which I think is out next month, and thankfully I was generously lent a galley copy that I read in a single plane ride. It's mesmerizing. I'm interested to hear what the American critics and readers say about it.

7) What's next? Any upcoming projects in the works that you can tell us about?
I'm trying, for the first time, to write a "real" novel—one narrator, one plotline, one story. It's impossible, basically. I even went away to a farm for a month to work on it, but it's still just a little more than half done. Don't be surprised if it's released posthumously.
Questions by Cody Madsen, Book Culture Events Coordinator.