Q&A with Andrea D'Aquino on her "Alice's Adventures in Wonderland" illustrations
Submitted by andrea@bookcult... on Mon, 10/12/2015 - 5:21pm
Several reimaginations of Lewis Carroll's Alices Adventures in Wonderland have been released this year in celebration of the story's 150th anniversary. One of which, a particularly stunning edition, was illustrated by Andrea D'Aquino as part of Rockport Publishers' Classics Reimagined series. Check out our Q&A with Andrea below and buy the book here!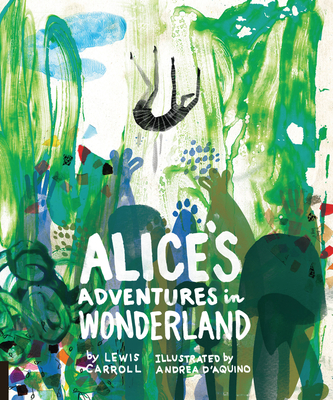 Synopsis: The "Classics Reimagined" series is a library of stunning collector's editions of classic novels illustrated by contemporary artists from around the world. Each artist offers his or her own unique, visual interpretation of the most well-loved, widely read, and avidly collected literature from renowned authors. From Grimm's Fairy Tales to The Wonderful Wizard of Oz and from Edgar Allen Poe to Sir Arthur Con
an Doyle, art lovers and book collectors alike will not be able to resist owning the whole collection. Enjoy Lewis Carroll's Alice's Adventures in Wonderland as you've never seen it before Andrea D'Aquino's modern, illustrative interpretation of this classic tale follows Alice on her fanciful journey down the rabbit hole where she meets friends like the Mad Hatter, Cheshire Cat, and the Caterpillar The lush, multi-faceted images breathe new life into this classic novel, making it a collectible for book and art lovers every where.
Andrea D'Aquino has always resisted labels like "art director", "illustrator", "graphic designer" and finds herself happiest straddling the line between all those things.
Q&A with Andrea D'Aquino
1. Your Alice illustrations are absolutely beautiful. What kind of mediums did you work in? Can you tell us a bit about them and which you enjoy working in the most?
Thank you for the complimentary words. Getting the chance to illustrate this very special book was an honor. I tend to use a bit of everything, so it's probably best described as mixed-media collage. I
cut up my own paintings, found books and other ephemera anywhere, mostly, the garbage or discarded on the street. Anything from parking tickets and luggage tags to vintage wallpaper scraped off a demolished apartment wall, really anything that feels special somehow, but not 'fancy' or conventionally beautiful, usually. I combine collaged pieces with drawing or ink-based painting. There's no real technique or procedure, I try to keep things spontaneous, and often based on chance. I truly didn't enjoy a single one more than others, but I did try to keep the process somewhat fresh and approach each chapter slightly differently, with it's own color palette, or mediums. For instance, some are more cut paper, others more heavily watercolor/ink. Such a lengthy book needs contrast and diversity to keep interesting, so a visual boredom doesn't settle in. For instance the Mad Tea Party became mainly photo collage, because I don't recall having seen it attempted before (though I tried not to view any of the thousands of existing Alice books out there). I used tea-stained paper, yellowed old-book pages, and a kind of 40's book about music and musicians that yes, I found in the recycling bin of my building. I am proud of how I turned out, as that image in particular had the pressure of history on it, to say the least!
2. What was the process of creating this book like?
An intense and concentrated blast of work, mainly because the schedule to complete over 100 illustrations allowed only 4 months or so. In the end, I think I used that outside pressure to simply plow ahead, and not overthink anything, and to approach it from a very visceral place. I feel that ended up being a big blessing in disguise, as my work rarely benefits from over-thinking or finessing. I had to just move on to the next and the next (not necessarily in any order). Some I did and thought, well….that one may not be so great. Then later, those ended up being some of my favorites. It's good not to be so self-judgemental, if you can ease up on yourself. You can surprise even yourself! Occasionally, I really was not happy with a piece and did it over, but that was quite the exception.
3. I
saw that this is your first book. Was it much different working with a text?
It is my first book. However, I frankly took to it rather easily, as I've worked with text as an art director, designer/illustrator for many, many years. That's natural to me. It just so happened that my collaborator happened to be Lewis Carroll! But I've worked with tons of writers, and even have done my share of writing myself, so, fortunately, that aspect was quite natural to me.
4. Do you have any favorite books/book illustrations? Can you tell us what they are?
Anything by Kveta Pacovska, or Bruno Munari. They are both European, but several of their books are available in US. I highly suggest anyone interested in true creativity and timeless intelligence to seek those out.
5. What are you currently reading?
I am big on biographies. Almost done with Lee Grant's story of being a black-listed actor. I just finished Kim Gordon's bio. I have Chrissie Hynde's bio…so I guess kind of a trend of bios there. I love Margaret Atwood, and see she has a new one out. The last novel I read was early in the year, and it was very memorable: On Such a Full Sea, by Hang-Ra Lee. Really evocative, in the dystopian genre, I suppose.
6. Can you tell us a bit about your previous work?
I've been a visually oriented communicator for some years now. I think that's the best descriptor, as my work has always been some form of words and images, stories – whether in print, film/video (I worked in advertising, after all), or in illustration, where I've done bookjackets, album covers, or illustrated articles both serious and light-hearted. The variety is something I love. I will say, this quality of text (like Alice) has given me confidence to take on more serious or weighty literature. I like to work with more cerebral ideas, philosophies, where the visual is open to interpretation, rather than very literal depictions in the traditional sense of story-telling. That is substantially less interesting to me. I think the best art comments or puts an unexpected spin on the text, even expands on it – the artist as author, adding a layer of richness and depth.
7. What's next? Any upcoming projects you can tell us about?
Well, I'm happy to say that this Alice book has been quite successful in a remarkably short time. And I had zero expectations, believe me. But the same publisher has asked me to do another book, of a very different genre. I'm writing it and illustrating this time. it's a kind of philosophy of my personal, somewhat quirky approach to multi-media collage and creativity in general. It's aimed at adults who perhaps love the idea of being creative, but need that extra encouragement to trust their instincts, let go of the idea of control or perfection, and just trust the innate creativity that we all have. It's not a step-by-step type of art technique book. After all, anyone can instruct you like: Step 1. Step 2. Step 3. But, then, that doesn't really mean you can dance, does it? Lose all the 'steps', I say, and just jump in. The more it becomes play, the better it usually is. Of course, it's always balanced with focus and intention, too. A delicate balance. Some days are just better than others. It won't be long-winded, that's for sure, and illustrated, as well. So, um - yes. That's what the book is about.
Thanks to Andrea D'Aquino for answering our questions!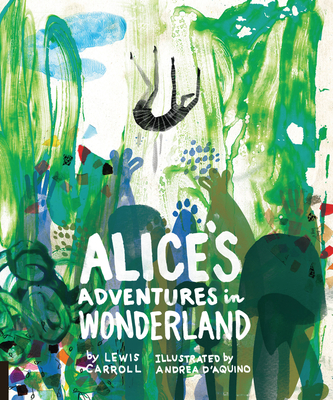 Recent blog posts