Q&A with Molly Guptill Manning, author of "When Books Went to War"
Submitted by andrea@bookcult... on Sun, 03/06/2016 - 12:11pm
Molly Guptill Manning is talking at New York Public Library's Mid-Manhattan branch on Monday, March 14 at 6:30pm on her book, When Books Went to War: The Stories that Helped Us Win World War II. We got in touch with her ahead of time and she was generous enough to answer a few of our questions. Check out her answers below!
1. How did you come to write When Books Went to War?
When I was writing my first book, The Myth of Ephraim Tutt, I was going through the archives of publisher Charles Scribner's & Sons when I came across several thick folders filled with letters from American soldiers stationed around the world thanking Scribner's for publishing "Armed Services Editions" of its books. The letters were so heartfelt and passionate about how meaningful these books were that I decided to do some digging to find out what was so special about them. A few newspaper articles from the 1940s explained that there was a special program between publishers and the military to print miniature pocket-sized paperbacks for American troops. Soldiers credited these books with helping them survive war—emotionally and mentally—and for giving them the courage to apply to college under the GI Bill (only the wealthy could afford college before the GI Bill, and so many soldiers had never before dreamed of going to college). The more I learned about this book program, the more I wanted to write a book to memorialize the effort and all that it meant.
2. What are you currently reading?
The Brass Ring by Bill Mauldin.
3. Do you have a personal favorite book of all time? If so, can you share it and tell us why?
I love David Copperfield. I've read it again and again. The characters are developed so well. How can you not like David (and root for him throughout)? And hate Mr. Murdstone and his sister, get a little annoyed with Mr. Micawber's roundabout way of speaking, and appreciate Betsey Trotwood's quirks but deep-down soft-heartedness towards David? I am so sorry when I finish it because I hate to leave the world that Dickens creates.
4. Is there anything you are particularly looking forward to the publication of?
I am a marathoner, and there's a cookbook coming out in September called Run Fast, Eat Slow, by Shalane Flanagen and Elyse Kopecky. I like the idea of eating nutritionally dense foods and the few spoilers they've leaked have looked really, really good!
5. What's next? Any upcoming book projects in the works that you can tell us about?
I am working on my next book—mainly doing a lot of reading and researching at the moment. Sorry to keep this vague (the project is still taking shape!), but it will explore another element of World War II and the life of American soldiers at war.
---
Synopsis: When America entered World War II in 1941, we faced an enemy that had banned and burned 100 million books. Outraged librarians launched a campaign to send free books to American troops andgathered 20 million hardcover donations. In 1943, the War Department and the publishing industry stepped in with an extraordinary program: 120 million small, lightweight paperbacks for troops to carry in their pockets and rucksacks in every theater of war. These Armed Services Editions were beloved by the troops and are still fondly remembered today. Soldiers read them while waiting to land at Normandy, in hellish trenches in the midst of battles in the Pacific, in field hospitals, and on long bombing flights. They helped rescue"The Great Gatsby"from obscurity and made Betty Smith, author of"A Tree Grows in Brooklyn, "into a national icon."When Books Went to War"is the inspiring story of the Armed Services Editions, and a treasure for history buffs and book lovers alike.
Molly Guptill Manning is a staff attorney at the United States Court of Appeals for the Second Circuit and sits on the board of editors of the Federal Bar Council Quarterly. She earned a B.A. and M.A. in American history from the University at Albany and a J.D. at the Benjamin N. Cardozo School of Law. Molly lives in Manhattan with her husband.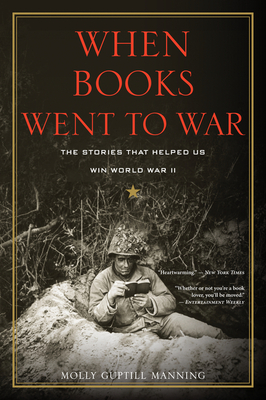 Recent blog posts