Q&A with Sam Abrams, author of "Education and the Commercial Mindset"
Submitted by tanwaporn on Wed, 05/25/2016 - 4:38pm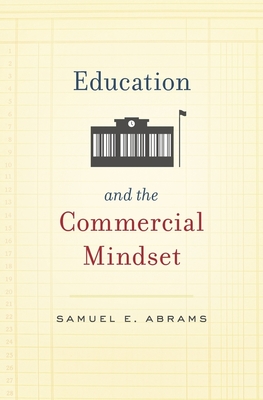 Sam Abrams will be joining us with David Denby on June 28th - until then enjoy this Q&A with the author of Education and the Commercial Mindset.
1. How did you come to write Education and the Commercial Mindset?
Forecasts by Wall Street analysts in the 1990s that for-profit firms could do a better job than municipalities in managing public schools left me perplexed. As a high school teacher of economics and history, I knew that Milton Friedman and his disciples had for decades been pushing for privatization of all kinds of services, including education, but I knew too well from my time in the classroom that education was one service, among many, that lacked the transparency necessary for proper contract enforcement. Selling textbooks and providing bus transportation constitute straightforward transactions. School management, however, is necessarily complex. Years later, I tackled this topic as the subject for a master's thesis in economics of education under Henry M. Levin at Teachers College. After reading my thesis, Levin told me it should become a book. I sent it around and got lucky with a contract. The result is this book.
2. What are you currently reading?
The Seven Pillars of Statistical Wisdom, by Stephen Stigler, and L'Herbe des nuits, by Patrick Modiano
3. Do you have a personal favorite book of all time? If so, can you share it and tell us why?
The Ascent of Man, by Jacob Bronowski. As both a history of science and meditation on the human condition, this book makes clear our potential for genius, beauty, good, and harm. And it is accessible from so many perspectives. I first read it as a junior in high school and have reread it several times since, finding it richer each time.
4. Is there anything you are particularly looking forward to the publication of?
The next Doonesbury collection, as always. I've long been a religious reader of Doonesbury.
5. What's next? Any upcoming book projects in the works that you can tell us about?
I'm now writing a chapter on Nordic education for a book to be published in Swedish by Natur & Kultur in November entitled Utbildningsekonomi, which translates as "Economics of Education." This chapter will be a variation on the eleventh and twelfth chapters of Education and the Commercial Mindset, which concern education reform in Sweden and Finland.
---
Samuel E. Abrams is the Director of the National Center for the Study of Privatization in Education at Teachers College.
He will be joining us, with David Denby, for an event June 28th at Book Culture on Columbus.
Education and the Commerical Mindset synopsis: America's commitment to public schooling once seemed unshakable. But today the movement to privatize K 12 education is stronger than ever. A veteran teacher and administrator, Samuel Abrams examines the rise of market forces in public education and reveals how a commercial mindset has taken over. For decades, Milton Friedman and his disciples contended that private markets could deliver better schooling than governments. In the 1990s, this belief was put to the test by Edison Schools and other for-profit educational management organizations (EMOs). Edison grew rapidly, running schools in poor neighborhoods in Baltimore, Philadelphia, and many other cities across the country. Yet disappointing academic and financial outcomes soon pushed the company and its competitors to the margins. The focus of EMOs on efficiency and results nevertheless found expression in federal policy with No Child Left Behind in 2002 and Race to the Top in 2009. The new ethos also defined nonprofit charter management organizations (CMOs) like KIPP that surfaced in the wake of EMOs and flourished. But the dependence of CMOs on philanthropists, tireless teachers, and students capable of abiding by rigid expectations limits their reach. Abrams argues that while the commercial mindset sidesteps fundamental challenges, public schools should adopt lessons from the business world. Citing foreign practices, he recommends raising teacher salaries to attract and retain talent, conferring more autonomy on educators to build ownership, and employing sampling techniques rather than universal assessments to gauge student progress.

$39.95
ISBN: 9780674049178
Availability: On Our Shelves Now - Click Title to See Location Inventory.
Published: Harvard University Press - April 25th, 2016
---
Recent blog posts