Q&A with "Eat Pray Love Made Me Do It" contributors: Tina Donvito, Victoria Russell, and Cara Bradshaw
Submitted by info@bookculture.com on Wed, 07/06/2016 - 7:05pm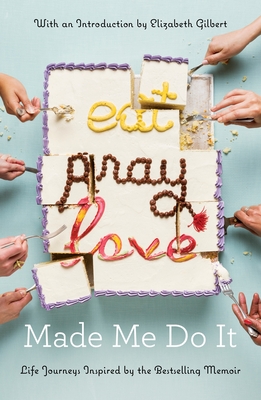 Eat Pray Love Made Me Do It, published ten years after Elizabeth Gilbert's original Eat Pray Love, is a collection of essays by nearly 50 different authors celebrating the original message of Eat Pray Love. Read our Q&A with three contributors to Eat Pray Love Made Me Do It, Tina Donvito, Victoria Russell, and Cara Bradshaw.
1. How did you come to write Eat Pray Love Made Me Do It?
Victoria: Elizabeth Gilbert posted a status on her Facebook page announcing an essay contest in honor of the tenth anniversary of the publication of her book Eat Pray Love. The essay prompt was simply to elaborate on the phrase "Eat Pray Love made me do it." She said that selected essays would appear in a book by that name. I didn't think that I had much of a shot at having my essay chosen, because I know how popular Eat Pray Love is and therefore how many people would be submitting, and I also felt like my story wouldn't be as exciting as many of the others, but I knew exactly what to write. I figured I had nothing to lose, so I wrote my essay and submitted it, and I'm glad that I did!
Cara: I also saw the essay contest on Facebook last summer and thought "I have to do this." I've followed much of Elizabeth Gilbert's journey since reading Eat Pray Love more than a decade ago and have admired her honesty and bravery and lack of defensiveness in responding to criticism. To me, she demonstrates the power of telling your story and harnessing your fears. Last spring, just before Riverhead announced the contest, I'd met Liz when she was performing karaoke as part of a fundraising challenge. And on the heels of that came a big admission in the New York Times, "Confessions of a Seduction Addict" about the years before her Eat Pray Love tale, which didn't make her look too glamorous. So in writing my contribution, I thought: if she can get up in front of a crowd and belt a song or admit truths about her life that no one was asking about or forcing her to tell, I can speak my truth, too.
Tina: I had written drafts of my story a couple of years before I even heard about Eat Pray Love Made Me Do It. I first wrote the essay as a travel piece detailing a hike I took on the Caribbean island of Dominica. I submitted it to a few travel publications and it was rejected. I then realized there was a personal and metaphorical aspect to the story, so I added that in, and again it was rejected. It wasn't until I heard about the call for submissions for Eat Pray Love Made Me Do It that I realized reading the original book was a big part of my initial motivation for going on the trip in the first place. So I added that angle in, and the final story took shape.
2. What are you currently reading?
Victoria: I'm currently reading Tiny Beautiful Things: Advice on Love and Life from Dear Sugar by Cheryl Strayed, the novel Girl Waits with Gun by Amy Stewart, and Marilyn Nelson's poetry collection Faster than Light.
Cara: I'm reading The Birthday of the World by Ursula K. Le Guin, The Gifts of Imperfection by Brené Brown, Anam Cara: A Book of Celtic Wisdom by John O'Donohue and just finished listening to How To Be Here by Rob Bell on Audible.
Tina: I'm reading Into Thin Air by Jon Krakauer. After watching the movie Everest, I became really interested in the motivation behind pursuing something so obviously fraught with danger. I'm also reading Bittersweet, whose author, Miranda Beverly-Whittemore, I met at the Madison Storyteller's Festival in Madison, NJ, last month.
3. Do you have a personal favorite book of all time? If so, can you share it and tell us why?
Victoria: Pride and Prejudice. Austen's work is so fundamentally timeless at its core. I love her wit, humor, brilliant dialogue, and her characters, who are completely ridiculous and realistic all at once. I love Elizabeth Bennett as a heroine because she's very likeable but also imperfect. And of course, the book changes every time I read it--the first time around, I loved the romance between Elizabeth and Darcy, but now I'm much more interested in how Darcy is really just a severe introvert who had the misfortune of being born long before the publication of Susan Cain's Quiet: The Power: of Introverts in a World that Can't Stop Talking.
Cara: The Awakening. I read Chopin my junior year in high school and was both excited and terrified by her words. Liked Edna Pontellier, even more than a century later, women still battle societal expectations around sexuality, marriage and motherhood. She sheds conventional social norms and sets out to create her independent, true self. But her nonconformity comes at a price. I honestly didn't make the direct connection until I sat down to write this, but Liz Gilbert is very much a modern Edna Pontellier.
Tina: The Great Gatsby, the quintessential great American novel. Fitzgerald's prose is so rich and layered, and the story is so beautifully tragic. I was an English and History double major in college, so I am fascinated by how events of the time (in this case the trauma of World War I) shape the culture and the works that come out of it. Another book I want to mention is my childhood favorite, Anne of Green Gables, which first got me interested in reading. Anne is actually quite a good role model for a young girl — she has an independent spirit, is not conventionally beautiful, bucks societal norms and competes with boys for academic achievement.
4. Is there anything you are particularly looking forward to the publication of?
Victoria: I'm most looking forward to Krista Tippett's book Becoming Wise: An Inquiry into the Mystery and Art of Living coming out in paperback. The book came out this past April, but I really prefer a nice squishy paperback to a hardcover copy.
Cara: This summer I'm mostly looking forward to "catching up" on reading that's been published for years (decades, in some cases) that I haven't made my way to yet. I'd like to delve into some Alan Watts; Rob Bell points to a great quote of his in How to Be Here that got me curious.
Tina: I'm a Harry Potter fan, so I'm looking forward to Harry Potter and the Cursed Child, the script of the West End play, which will be published on July 31 (Harry Potter's birthday). I know there's a lot of debate over what counts as canon, and I understand those who say it should consist of only what's between the covers of the novels themselves. But I can't help myself — I just want to know more about the Potter universe!
5. What's next? Any upcoming book projects in the works that you can tell us about?
Victoria: No writing projects at the moment, but I work at the Dodge Poetry Program, and we're gearing up for our big Festival happening this October in Newark, NJ. It's the 30th anniversary of the Dodge Poetry Festival, and we have an incredible lineup. It's going to be great!
Cara: I'm working on a short story inspired by my hometown and a O'Donohue's concept of Anam Cara ("soul friends"), and blog content about sustainable living for the NJ-based Green Divas Radio Show.
Tina: I'm continuing to publish articles and essays as a freelance writer — I cover mainly parenting, pregnancy, travel and entertainment. I just had my first piece in The New York Times, so that was big for me. I'm also eager to write my memoir about my six years of infertility and miscarriage, topics I touch on in my Eat Pray Love Made Me Do It essay, but that's something I'm still bouncing around in my head.
Recent blog posts