Q&A with Jamie Duclos-Yourdan, author of "Froelich's Ladder"
Submitted by tanwaporn on Fri, 07/15/2016 - 11:22am
Get excited for this thrilling tale, Froelich's Ladder, the debut novel from Jamie Duclos-Yourdan wil be released August 9th, 2016. Check out this Q&A with the author before picking up your copy next month!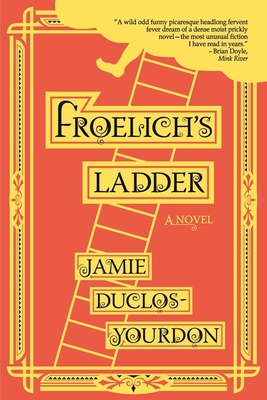 1) How did you come to write Froelich's Ladder?
The unpublished novel I wrote before Froelich's Ladder made use of numerous totems: scarecrows, bicycles, etc. some left-over when I was through—among them, a ladder. To me, a ladder begs the questions Who's on top? Who's on bottom? What's the nature of their relationship? That's how I conceived of the brothers Harald and Froelich, and the feud the inserted the world's fourth-tallest ladder between them.
2) What are you currently reading?
I'm reading The Golem and The Jinni, by Helene Wecker. I love her blend of fabulism and historical fiction (no surprise, I guess). She situates her mystical creatures in 1899 New York—a magical place, in and of itself—and imbues them with such tender wants and needs. As one debut novelist enjoying the work of another, I'm staggered at how far ahead of the curve she is.
3) Do you have a personal favorite book of all time? If so, can you share it and tell us why?
I love anything by John Cheever; I just finished re-reading a third edition of The Wapshot Chronicle, which was a birthday present. Cheever loved every character so much, whether he or she was the protagonist, antagonist, or someone who appeared only once. He demonstrates the humanity in every person. It's a lesson I hope to learn from.
4) Is there anything you are particularly looking forward to the publication of?
The Done Thing, by Tracy Manaster, which will be available in November 2016. Tracy and I are in the same professional writing group in Portland, Ore., The Guttery. We've had a great year for publications: Every Anxious Wave, by Mo Daviau; The Hot Season, by Susan DeFreitas (also due in November); The Done Thing (Tracy's second novel); and my debut, Froelich's Ladder. No doubt you'll be learning more names, soon.
5) What's next? Any upcoming book projects in the works that you can tell us
I'm working on a book-length Mesopotamian ghost story! Like Froelich's Ladder, it'll be a fabulist take on the natural world (i.e., talking crows, people returning from the dead) that addresses themes like grieving and filial responsibility. I'm having a blast writing it. I hope the same audience that enjoys Froelich's Ladder will be equally entertained.
---
Froelich's Ladder will be released on August 9th - preorder your copy today!
Recent blog posts