Q&A with Lesley Ware, author of "My Fab Fashion Style File"
Submitted by tanwaporn on Fri, 08/12/2016 - 11:43am
Can't wait for NYFW? Make sure to come to our event with Lesley Ware, author of My Fab Fashion Style File, on September 9th at 4:30 at Book Culture on Columbus. Until then, check out our Q&A with the author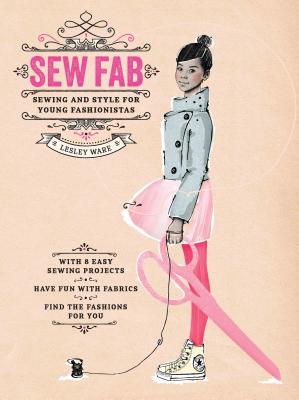 1. How did you come to write My Fab Fashion Style File?
My Fab Fashion Style File was conceived as I was midway through submitting the manuscript for my 1st book, Sew Fab: Sewing and Style For Young Fashionistas. My editor commented 'I think you have two books here would you mind saving some of this content for a 2nd book?' Of course I said 'YESSSSS!'.

2. What are you currently reading?
I'm reading a super thick book about the life of Oscar Wilde and a novel written in the 1950s called A Charmed Life, by Mary McCarthy, about a group of Bohemian artists in love.

3. Do you have a personal favorite book of all time? If so, can you share it and tell us why?
I have a handful of favorites in particular Laurence King's My Wonderful World of Fashion by Nina Chakrabarti. I clearly remember buying it 5 years ago and holding it in my hands thinking 'if I ever write a book I want LKP to be my publisher'. I still can't believe that actually happened!

4. Is there anything you are particularly looking forward to the publication of?
My husband, Kamau Ware, has been creating a historic graphic novel called The Other Side of Wall Street for almost 2 years. I'll be excited, and proud, when it's off the press and in our hands.

5. What's next? Any upcoming book projects in the works that you can tell us about?
I wrote my 3rd fashion-filled book which is currently untitled. There's no plan in the works to publish so I'm just refining and tweaking until the time is right.
---
Lesley Ware is an educator, style blogger, and designer living in Brooklyn, New York. She runs popular sewing and crafting workshops for girls and in 2008, she started a blog, thecreativecookie.com, which quickly became a destination for a behind-the-scenes look at fashion in New York City. She is the author of Sew Fab.
---
Make sure to come to Book Culture on Columbus on Friday, September 9th at 4:30pm for a special event with Lesley Ware!
Recent blog posts