Q&A with Tim Murphy, author of "Christodora"
Submitted by tanwaporn on Wed, 08/17/2016 - 2:18pm
1. How did you come to write Christodora?
I didn't have an idea for a full book. The main dynamics of my life the past 25 years in NYC have been art, gay culture, media, music, books and very looooong friendships and on the flip side, mental illness, addiction, the long shadow of AIDS and the activism related to that, and after about 10 straight years of being a journalist (with a bit of activism thrown in), this book started as a lump in my heart of memories and experiences I needed to transmute into a novel. I published two novels, Getting Off Clean and The Breeders Box, in my late twenties before depression, addiction and and HIV diagnosis derailed me, and eventually, after thinking for many years that writing fiction was no longer a worthy pursuit in a world so crammed with real-life issues, I started feeling like I would gradually grow more and more unhappy and bitter if I didn't at least try to write fiction again. It was a huge release of my long-clenched novelist's heart! So I wrote a novella that looks very much like the first chapter of Christodora,and I found my way through this very long-spanning story chapter by chapter, making the key connections as I wrote. It did not come to me all of a piece by any means. I feel a bit like I discovered these lives and their connections while writing them, as the reader does.
2. What are you currently reading?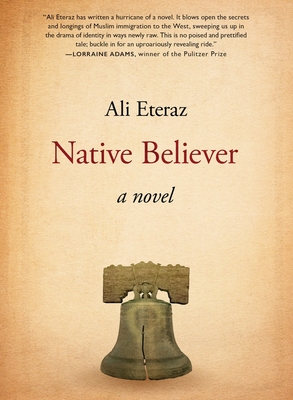 Ali Eteraz' Native Believer, a new and very funny, wacky and also sometimes painful novel about a contemporary secular Muslim-American guy who gets discriminated against on the job and then goes off the radar and into a kind of Islamic anarchic underground alternative scene in Philadelphia. It's really brilliant and very charming. I was laughing really hard on the train reading it and people were looking at me funny.
3. Do you have a personal favorite book of all time? If so, can you share it and tell us why?
That, of course, is the world's hardest question. I guess I think of books that I've read again and again and that I could probably pick up right now and happily read, partly because they were hugely influential to me in childhood or young adulthood, so I would probably say The Catcher in the Rye, The Secret History, Another Country and Howards End. The first because Holden Caulfield was my first brush with the thrilling notion of getting lost and going off the radar in a wild nocturnal city, the second because the New England noir atmosphere is very close to my childhood's, the third because it's so political and so madly romantic and sexual and just plain soapy at the same time, and the fourth because the bond between the Schlegel sisters is one of the most beautiful love stories ever told.
4. Is there anything you are particularly looking forward to the publication of?
Yes, I am dying to know what Jenny Egan has been working on these past few years since A Visit From The Goon Squad and I am also very excited and hopeful to see the publication of the novel that my friend Mike Albo (who wrote The Underminer, The Junket and Spermhood) has written, because I've read it and it is like a futuristic acid trip on the page. It's like opening up a book and falling into the most weirdly brilliant 3-D IMAX movie you've ever seen.
5. What's next? Any upcoming projects in the works that you can tell us about?
I have started a new book but work on it has been stalled by the publication of Christodora and also by my jumping into the organizing of Gays Against Guns, which we formed here in NYC right after the June 12 massacre with an assault-weapon of 49 LGBTQ people at the Pulse nightclub in Orlando. We marched 800-strong in the NYC Pride March that very month to say that we queers are fed up with the gun industry's stranglehold on sensible gun violence prevention legislation in Congress and we're going to throw some old-fashioned, ACT UPChristodora-style street activism into this fight. We already have chapters forming in half a dozen other cities. There is nothing more solitary than writing a novel and nothing more collaborative than activism, so the gear-shifting has been dramatic for me. But I'm excited to get back to this new book soon. It's a very different landscape from Christodora and about a very different preoccupation of mine but it's also about bonds of family, which, I mean, why bother writing about anything else, right?
---
Recent blog posts