Women in Translation Month: Q&A with translator Susan Bernofsky
Submitted by info@bookculture.com on Thu, 08/25/2016 - 10:34am
This month we've been talking, blogging, and tweeting about women in translation. We started with recommendations from the staff; next, we wanted to hear from the translators themselves! First up is Susan Bernofsky, the acclaimed translator of Robert Walser, Franz Kafka, Jenny Erpenbeck, and Yoko Tawada, among others, and the director of the Literary Translation program in the MFA Writing Program at Columbia University. Bernofsky was kind enough to answer some questions for us about Women in Translation month.
1. We've been talking this month about how less than 30% of all translations published in the US each year are written by women. Why do you think that number is so low?
In part it has to do with publishing practices in the languages we're translating out of—publishing in many counties favors male authors, just as it does overall in the U.S., as a quick look at the VIDA count will convince you. And even when lots of books by women are published, there's often a perception that the "most important" books are the ones by men, which then are understood as "literature for everyone" as opposed to "women's writing." And the already low percentage of female authors among books in translation published in the U.S. falls even lower among the books selected for the most important translation prizes. I hope that the increased attention to the tilt towards men's books we've been seeing will lead to more balanced numbers, bringing readers' attention to the many wonderful books by women that await them.
2.. How did you get involved with Women in Translation month?
I was part of a domino effect of awareness around this issue. I think a lot of us had a vague notion that things were skewed in favor of books by male authors, but it wasn't until the VIDA count (which was launched in 2009 and has expanded pretty steadily since then) had been around for a few years that it started occurring to women in the translation world to start counting books. Alison Anderson started counting in 2013 and posted some preliminary figures in Words Without Borders, then a panel on the topic in spring 2014 at the London Book Fair prompted one of the panelists, Katy Derbyshire (a British translator based in Berlin), to follow up with a call for a new prize to honor translated books by women. This in turn inspired me to echo Katy's call in Sept. 2014. Then in spring 2015 Margaret Carson (then co-chair of the PEN Translation Committee) set about doing a VIDA-style count with translator Alta Price and VIDA veteran Jen Fitzgerald that was presented at the PEN World Voices Festival and on a new Women in Translation Tumblr. That's the prehistory of the story. Then Meytal Radzinski came up with the idea of Women's in Translation Month three years ago, and I first heard about it this summer and immediately started working to promote it.
3. What kinds of things can the average reader do to support this project?
That's easy! Next time you're buying something to read, make a point of looking for a translated book by a female author, and then tweet your read with the hashtags #WITmonth, #WomenInTranslation, and #readwomen. If you blog or post on other social media about books in translation written by women, that goes a long way toward spreading the word.
4. As someone who loves to read literature in translation, these numbers distress me because I know there are amazing books out there that I can't read. Who are some of the great, untranslated women writers? Is there anyone in particular you'd like to translate but haven't yet?
I ought to be careful about saying too much here because my dance card is kind of full right now, but some novels I loved recently and would love to see out in translation (whether done by me or someone else) are Silke Scheuermann's Die Häuser der Anderen (The Houses of Others, wonderfully interlinked stories set in a single neighborhood with very strong characters), Andrea Grill's Das Schöne und das Notwendige (The Beautiful and the Necessary, a farce about a pair of friends who hit on the idea of kidnapping a civet cat from the zoo to make their fortune with civet coffee), and Antje Rávic-Strubel's Tupolew 134 (Tupolev 134, an action-packed drama about a cold war airplane hijacking based on a true story). All of these are smart, gorgeously written books that'll still be gorgeous in translation. I hope you get to read all of them!
5. Now for some recommendations! Do you have any favorite books by women in translation to recommend? I know you have a new translation of Yoko Tawada's Memoirs of a Polar Bear coming out this November with New Directions. Can you talk a little bit about what we have to look forward to with that book?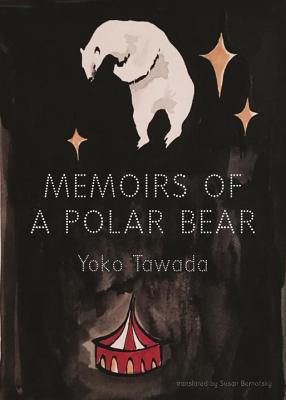 Thanks so much for asking! I'm so in love with Yoko's polar bear novel right now. It's a three-generation family saga, and the main characters are polar bears (grandmother, mother, son) who live and move in human society while still existing in their full physicality as polar bears. It's a very playful book, lighthearted and whimsical on the surface, but in other ways very serious – I read it as secretly being about questions of race and ethnicity and human discomfort with otherness of all sorts. Two of the three chapters are loosely based on true stories, including that of Knut, the much-adored baby polar bear born in the Berlin zoo in 2006.
As for recommendations, let me mention Scholastique Mukasonga's novel Our Lady of the Nile, translated by Melanie Mauthner (Archipelago, 2014), which I read on vacation this month. It's set in an elite girls' school in Rwanda and told from multiple points of view with girlish charm, ample humor, and some cattiness too (think Muriel Spark's The Girls of Slender Means), but then it's also the story of racial tensions and anti-Tutsi violence in Rwanda, and the juxtaposition of this stark material with the schoolgirl idyll is moving and chilling. An ancient soothsayer makes an appearance. The prose is lovely, and the girls' wittiness and subtle digs as they jockey for position in the school's hierarchy come through really clearly in Mauthner's translation. It was such a pleasure to read. ‪
Thank you, Susan! Check out the other posts in our Women in Translation month series: our staff picks for books by women in translation and an interview with translator Margaret Carson.
Susan Bernofsky directs the Literary Translation program in the MFA Writing Program at Columbia University. She has translated eight books by the Swiss-German modernist Robert Walser, including Microscripts, Berlin Stories, and Looking at Pictures. She has also translated work by Franz Kafka, Hermann Hesse, Jenny Erpenbeck, Jeremias Gotthelf, and Yoko Tawada. She co-edited, with Esther Allen, the anthology In Translation: Translators on their Work and What It Means. In 2014 she was named a Guggenheim Fellow; she won the Helen and Kurt Wolff Translation Prize in 2006 and the Hermann Hesse Translation Prize of the City of Calw in 2012. She blogs about translation at translationista.net.
Author photo © Caroline White
Recent blog posts