Q&A with Katie Holten, author of About Trees
Submitted by cara on Tue, 10/04/2016 - 3:01pm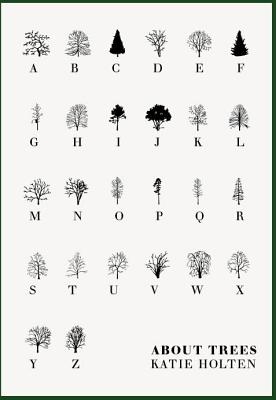 On October 4th, we here at Book Culture are excited to be hosting Katie Holten, whose book, About Trees, is composed of works by authors such as Jorge Luis Borges, Ursula K. Le Guin, Ada Lovelace, and Lucretius, translated into Holten's own tree alphabet. In anticipation, we asked Holten some questions about her work and her inspirations.
How did you come to write About Trees?
I didn't write About Trees. That's the beauty of it! It's a book full of other people's wonderful words. Like a collage or anthology, it brings together a selection of loved, lost, forgotten and new writing about trees. My brother John has a publishing house in Berlin, Broken Dimanche Press, and for years we talked about making a book together, a beautiful book-object-art-work. That seed of an idea grew into About Trees. It's an unusual book, with many special features – there's no way it would have been printed if my brother wasn't as crazy as me. What I did write for it is a Tree Alphabet.
What inspired you to create a tree alphabet?
For ages I'd been feeling frustrated with language, like it had lost its meaning, become hollow. What is 'green' really when everything is being greenwashed? I wanted to find a way to rewrite familiar words, words that we know so well we've forgotten what they actually mean. I turned the tree alphabet into a Trees font, so you can write in trees. It's as simple as tapping the keyboard – letters sprout as trees, longer texts become dense like forests. When we literally can't see the wood (words) for the trees, maybe we can start to rethink, or re-see, the words.
Have you ever created any other alphabets or have any new ones in mind?
I'd love to write, for real, with the tree alphabet. You know: plant a story, letter by letter, tree by tree. When I heard about plans for the Obama library I immediately imagined it landscaped outside with arboreal letters, trees telling tales. So I'm interested in exploring the possibility of making a new tree alphabet using trees native to, and happy in, a certain place. Then we can write our stories with trees creating a landscape of planted poems, sprouting short stories, a garden of words, or a forest of words to get lost in.
As for new, non-tree alphabets – I'm actually working on a project right now, not sure I can talk about it though, sorry!
What are you currently reading?
Ha! I have over 100 books on and around my bedside table. A few years ago I realized that I never have time to read everything I want, so I said to myself okay, I'm going to read and not feel guilty about reading because it'll be part of my job, so now I read. I still feel guilty though! Anyway, I just read, and thoroughly enjoyed, The Gene by Siddhartha Mukherjee, Lonely City by Olivia Laing, I Love Dick by Chris Kraus, Lab Girl by Hope Jahren, Dark Ecology by Timothy Morton, The Birth of the Anthropocene by Jeremy Davies, Imaginary Cities by Darran Anderson, The Hidden Life of Trees by Peter Wohlleben, and Trace by Lauret Savoy. Right now I'm reading a bunch of things including Geomantic, a gorgeous new book of poems by Paula Meehan. She kindly shared an advance copy and I look forward to interviewing her about it now.
Do you have a personal favorite book of all time? If so, can you share it and tell us why?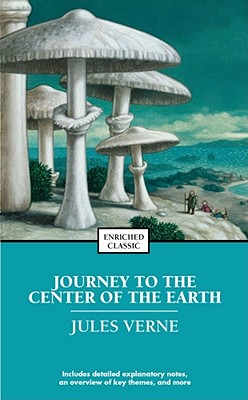 Oh, I have many, it's difficult to name just one book! Last year I was invited to share a favorite book in an exhibition and I gave them the ladybird classic edition of Journey to the Center of the Earth by Jules Verne. I also included a section from it (the original version) in About Trees. It was one of the books that I reread when I was little. I loved the simplicity and craziness of it – finding a tunnel that leads to the center of the earth, walking into the belly of the planet, exploring a fantastical, invented world that exists in some kind of parallel universe.
Is there anything you are particularly looking forward to the publication of?
I've been looking forward to James Gleick's new book Time Travel. It finally came out this week, but I'm on a remote island and have to keep waiting until I get home, argh! I'm also looking, very much, forward to Katie Paterson's Future Library although, sadly, I probably won't be around when it's published in 2114.
What's next? Any upcoming book or art projects in the works that you can tell us about?
I've been trying to write. It's very difficult, but maybe it will lead to something. I've been commissioned to develop a public artwork, with trees, for Dublin and that will start unfolding on Bloomsday. I was invited to participate in a group exhibition called Art and Alphabet at the Hamburg Kunsthalle next year, so there might be some Tree Alphabet's included, and something new.
Thanks, Katie!
We'll be celebrating About Trees on October 4th at 7pm, at our 112th St. location. We hope to see you all there!
Katie Holten is a visual artist based in New York. She represented Ireland at the 50th Venice Biennale (2003) and was commissioned by the city of New York to create Tree Museum (2009), a public artwork celebrating the centennial of the Grand Concourse in the Bronx, NY. She has had solo museum exhibitions at the New Orleans Museum of Art (2012); Dublin City Gallery The Hugh Lane, (2010); The Bronx Museum of the Arts, New York (2009); Nevada Museum of Art, Reno (2008) and Contemporary Art Museum St. Louis (2007).