Q& A with Kate Zambreno on Art + Life
Submitted by info@bookculture.com on Mon, 10/10/2016 - 5:12pm
Book Culture is dedicated to featuring and promoting all the cool literary events in our neighborhood. In that vein, we have been very excited about the new conversation series organized by Heidi Julavits and Kate Zambreno at Columbia, Art + Life. The next event in the series, featuring Brian Blanchfield in conversation with Kate Zambreno, will take place Tuesday, October 11th at Dodge Hall. In anticipation, we asked Kate Zambreno a few questions about the series.
1. Tell us a little bit about the Art + Life series. How did it come about?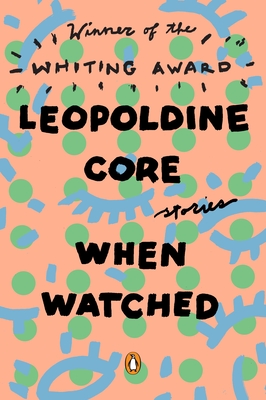 It came out of a conversation I was having with Heidi Julavits, who runs the undergraduate creative writing program at Columbia. She wanted to start programming that was primarily for the undergrads, and we talked about a conversation series that could help foster a sense of community, as all of the other events bringing in writers are through the graduate program. The undergrad writers here are sophisticated writers, and many are serious about wanting to continue to write, and hopefully publish, without knowing what that might mean. The kind of questions they often have—about publication, about whether or not to go to grad school, about working other jobs while being a writer, which most writers have to do, about really how to *be* a writer in the world—these are questions that tend not to be addressed in a workshop or seminar settings. But we also didn't want to do something that felt too oriented towards professionalism or careerism, or like a panel on how to find an agent. I like thinking of writing not as a career but as a vocation—and I wanted to bring in writers, at early to middle stages in their lives as writers, who have found all different ways to sustain themselves as writers, while producing exciting and innovative work. And I wanted it to be a mix of backgrounds—MFAs, no MFAs, those who publish on trade presses, those who publish on much smaller presses, full-time writing teachers and those in the adjunct trenches and writers who don't teach at all. We also didn't want to do a reading, but have it be a conversation, with a Columbia undergrad faculty person, and didn't want it to be directly promoting anything. Each semester we bring in a poet, a nonfiction writer, and a fiction writer, even though there is overlap there—many of the writers are poets as well, for instance, or write fiction and nonfiction—they're in conversation with an undergrad faculty member, and an undergrad writer introduces them. So far the events have had a laid back, living room feeling—they are open as well to the public, and many from the grad community also attend—we talk half the time about art and process, and the work, and the other half about the particular life of the writer, how they started and continue making work, and how these relate, and everyone is encouraged to ask questions. We started the series last spring, with me in conversation with the lyric essayist T. Clutch Fleischmann, and for September Heidi was in conversation with the poet and fiction writer Leopoldine Core.
2. Brian Blanchfield is the next featured author. Why was he chosen? How would you describe his work?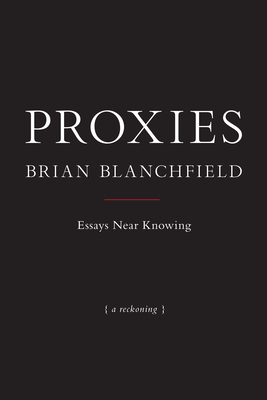 I was taken by this brief essay that was published in BOMB, called "On Dossiers," which is from his Nightboat collection, Proxies, which was in the explorative tradition of Montaigne, essaying as a sort of performance, a continuing forth, a "near knowing," as the subtitle of the book states. The piece begins with Barthes' later-life lectures, and then continues forth into the rather Sisphyean alienation of the process of searching for and being interviewed for, full-time creative writing jobs, culminating in thinking through awards for writers and the question of family, writing, shame and pride. I liked that his collection is this experiment in essaying, that he wrote the pieces, all entitled, "On (a subject)", without consulting the Internet or other research, and then at the end there is a scroll of errata. I'm always interested when writers write about process in the work, and was compelled by how openly Blanchfield writes about the life and truths of a writer who is an award-winning poet, but still how deeply complicated that life can be. In creative writing classes, especially in creative nonfiction, I find that the same handful of essayists tend to be taught, or named, or known, all mostly for being "successes." Brian Blanchfield is no doubt a success, and has won major awards, including the Whiting for Proxies, but I'm always interested in thinking about the perils and tangles of the life of an artist, as they navigate through institutions.
3. What's coming up next in the series? Who do we have to look forward to?
Some of the most urgent contemporary writers, I think. The poet Morgan Parker (Other People's Comfort Keeps Me Up at Night, and the upcoming There Are More Beautiful Things Than Beyonce) will be in conversation with Columbia faculty member Dorothea Lasky November 1—here's a poem by her. For the spring I'm hoping to bring in Suzanne Scanlon for fiction, (Her 37th Year: An Index and Promising Young Women), Durga Chew-Bose, who has an essay collection coming out through FSG, and the poet Tommy Pico (IRL).
4. Tell us about what else you've been reading lately. Who are some authors you'd like to see Art + Life host in the future?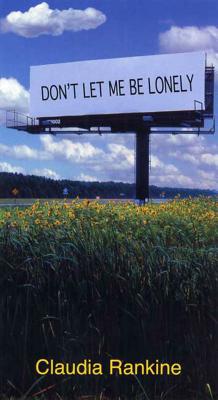 Today for my own work I've been reading Roland Barthes' lecture on The Neutral, and it's funny, I forgot that Brian Blanchfield brings it up as well in "On Dossiers." I'm teaching a seminar on Notebooks and Other Experiments at Sarah Lawrence, and so a lot of my reading lately is towards that—I just finished teaching Suzanne Scanlon's Her 37th Year: An Index, and Suzanne Buffam's A Pillow Book, both incredibly alive adventures in form and writing the self, and for upcoming weeks we're reading some of my favorite books, Bhanu Kapil's Ban en Banlieue, Claudia Rankine's Don't Let Me Be Lonely, Moyra Davey's book on Jean Genet, Burn the Diaries, Hervé Guibert's book on photography, Ghost Image.
In terms of who we invite to Art + Life, it depends on many variables and schedules and etc., but I think there's so much exciting new work—I loved Ocean Vuong's book of poetry, Simone White's newest book of poems, I would love to bring in Anne Boyer, I think her thinking and work is always so urgent. I would love to bring in Jenny Zhang, I'm excited for her new book of stories and I just love her Guillotine chapbook HAGS, her poetry as well. There's so much I'm looking forward to reading—Renee Gladman's Calamities, Sarah Gerard's upcoming book of essays, anything Nightboat publishes, especially Ariel Goldberg's newest book, work by Andrew Durbin, Douglas Martin's upcoming book about Kathy Acker. I really want to read Natasha Stagg's Surveys, that Semiotext(e) published, and Adrian Nathan West's The Aesthetics of Degradation. I'm excited about Sofia Samatar's collection of short fiction coming out through Small Beer, as well as Jen George's story collection just out by Dorothy project...I just got in the mail Elisa Gabbert's new collection of poems based on the Judy character in Wallace Shawn's The Designated Mourner, it looks amazing. Who else would I want to bring in? Amina Cain, Azareen Van Der Vliet Oloomi, Valeria Luiselli. Really, so so many writers.
Thanks Kate!
---
Kate Zambreno is the author of two novels, Green Girl and O Fallen Angel (to be reissued in January by Harper Perennial). She is also the author of the work Heroines (Semiotext(e)). She teaches in the writing programs at Columbia University and Sarah Lawrence College. She is at work on a series of books about time, memory, and the persistence of art, which includes the forthcoming Book of Mutter (Semiotext(e)'s Native Agents) and Drifts (Harper Perennial).