Q & A with Adam Gidwitz
Submitted by cara on Sun, 11/13/2016 - 3:08pm
Adam Gidwitz stopped by our store on Columbus the other day to sign copies of his new book, The Inquisitor's Tale. The book recently got a great review in The New York Times, and we're so excited about it that we asked Adam to answer a few questions for the blog!
How did you come to write The Inquisitor's Tale?
I feel like I have been writing The Inquisitor's Tale for the last thirteen years. My life, like most people's, has always been divided between the professional--my writing for kids--and the personal--which, in my case, is being married to a professor of medieval history. My wife and I have been traveling to Europe for her research for thirteen years--we even spent 2011 living in France. So while publicly I've been talking about Grimm's fairy tales, privately I've been touring ruined monasteries, visiting medieval dungeons, wandering ancient forests. As my wife did her research, I was collecting stories, events, and amazing facts. At first, I collected them for fun, because they were amazing. But once I became an author (this medieval side of my life predates writing), I began to collect stories with an eye to writing this book. I began actively planning it and sketching out scenes six years ago. It's been a long, emotional, powerful process.
What are you currently reading?
I have really been moved by Gayle Forman's Leave Me, an adult book about a mother trying to juggle her job and her kids. Moving and instructive for both partners in a relationship.
Do you have a personal favorite book of all time? If so, can you share it and tell us why?
Besides the Brothers Grimm, I loved--and still love--Roald Dahl. His book Matilda is maybe my favorite book ever. It is funny, and a little scary, and is about parents who are idiots and a child who is brilliant. What could be better?
Is there anything you are particularly looking forward to the publication of?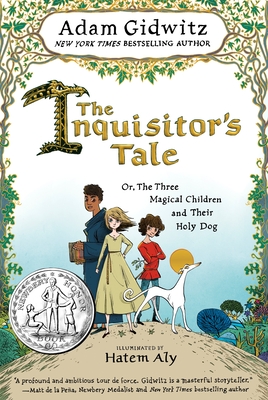 Nothing off the top of my head. However, I haven't read Ghost yet by Jason Reynolds and I've heard it's incredible from every single person who's picked it up, so I can't wait to dive in to that!
What's next? Any upcoming book projects in the works that you can tell us about?
I am working on a new series called The Unicorn Rescue Society. It's geared toward a younger audience than I'm used to. However, my daughter (who is about to be ONE year old) has expressed to me on numerous occasions that the book is still very advanced.
Thanks, Adam! Don't forget to come in and pick up a signed copy of the book at Book Culture on Columbus. You can read more about the book on his website, and don't miss his essay on "What Makes a Children's Book Good," published in The New Yorker last month.