Q&A with Sherry Amatenstein
Submitted by info@bookculture.com on Mon, 12/05/2016 - 7:46pm
Local author Sherry Amatenstein's new book, How Does That Make You Feel? was just released this fall from Seal Press. The book brings together essays by both therapists and patients about the therapy process. Sherry was kind enough to answer a few questions about the book and her own reading habits.
1) How did you come to put together How Does That Make You Feel?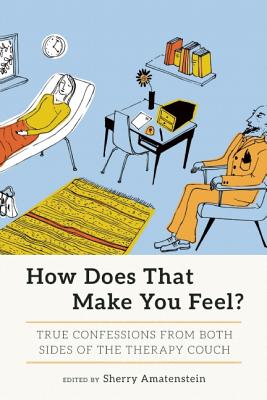 I became a therapist midlife after a career as a journalist and magazine editor. Many of my articles-- some pretty revealing!-- were available via a Google search. This somewhat invalidated the 'blank slate' idea of not revealing anything about myself to the patient so as not to interfere with the 'transference process.' And as a patient I prefer knowing some elements about the personal life of my longtime therapist Irina. In session, my policy is to reveal things about myself that will help a patient feel I truly understand something he or she is going through. It isn't relevant that I just suffered a rift with a friend so am a bit depressed; it is helpful to admit I too have experienced a parent dying. My anthology-- 34 pulling-no-punches essays from the viewpoints of therapists and patients-- crashes through the boundaries between shrinks and clients. We're all human, which means we're all crazy to some degree!
2) What are you currently reading?
Carrie Fisher's The Princess Diarist.
3) Do you have a personal favorite book of all time? If so, can you share it and tell us why?
Especially in these tough times I frequently recommend that people read Victor Frankl's Man's Search for Meaning. It's all about how sometimes thorugh no fault of our own we find ourselves in unbearable situtations. At those times the only control we have is how we cope with the situation and ultimately move forward. Frankl was able to find meaning even in the hell of a concentration camp. Suffering is part of the human condition but we can choose to learn from it rather than to sink.
4) As we near the holidays, do you have any book recommendations for people are feeling the stresses of the season?
Not one particular book but I recommend escaping into books that take you into very specfic and engrossing worlds: The Great Gatsby, Commonwealth, The Underground Railroad, Ursula LeGuin's EarthSea Trilogy, Harry Potter...

5) What's next? Any upcoming book projects in the works that you can tell us about?
Nothing firmed up yet! People have been asking me for a How Does That Make You Feel? sequel. There are many therapist/therapized confessionals still unshared :)
Thank you, Sherry!
---

Sherry Amatenstein, LCSW is a NYC-based therapist and editor of the new anthology, How Does That Make You Feel?: True Confessions From Both Sides of the Therapy Couch (howdoesthatmakeyoufeelbook.com). Her previous books include Love Lessons From Bad Breakups and The Complete Marriage Counselor. She runs relationship seminars nationwide and has offered relationship advice on Today, Early Show, and NPR. When pressed, she admits to having conducted a pre-marriage counseling session on an episode of My Big Redneck Wedding.
Recent blog posts