Q & A with Deborah Blumenthal
Submitted by cara on Sun, 02/05/2017 - 4:41pm
Book Culture is excited to be hosting Deborah Blumenthal for a special storytime at Book Culture Columbus on February 11th. In anticipation, we asked her a few questions about her book and what she's working on.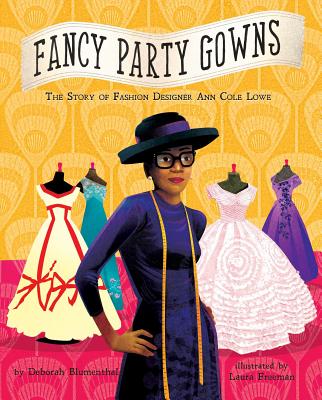 How did you come to write Fancy Party Gowns? 


A friend of mine on Facebook often puts up posts on women in history and she put up an item about Ann Cole Lowe, the designer of Jacqueline Kennedy's wedding gown. I had never heard of Ann and began to do some digging. I was shocked to find out that the woman who designed perhaps the most photographed dress in history, got little recognition at the time – except for one mention in the Washington Post that said, "the dress was designed by a Negro, Ann Lowe." That broke my heart.
2) What are you currently reading?


The Residence: Inside the Private World of the White House by Kate Anderson Brower. I'm also halfway through M Train by Patti Smith.
3) Do you have a personal favorite book of all time? If so, can you share it and tell us why? 


I don't have a favorite of all time, but over the last couple of years, my favorite book was A Little Life, by Hanya Yanigihara. I've never read a love story that touched me so deeply.
4) Is there anything you are particularly looking forward to the publication of?


Whatever comes next from Hanya Yanigihara.
5) What's next? Any upcoming book projects in the works that you can tell us about?
I'm in the process of selling a new picture book biography. Stay tuned.
---
Deborah Blumenthal is an award-winning journalist and nutritionist who now divides her time between writing children's books and adult novels. She has been a regular contributor to The New York Times, as well as to Long Island Newsday as a home design columnist. Her feature stories have appeared widely in many other newspapers and national magazines including New York Daily News, the Washington Post, the Los Angeles Times, Bazaar, Cosmopolitan, Woman's Day, Family Circle, Self, and Vogue. She lives in New York City.