Q&A with Erica Komisar
Submitted by info@bookculture.com on Wed, 03/29/2017 - 7:55pm
We're excited to be hosting Erica Komisar on April 12th for an event promoting her new book, Being There: Why Prioritizing Motherhood in the First Three Years Matters. In anticipation, we asked her a few questions--her are her responses!
1. How did you come to write Being There?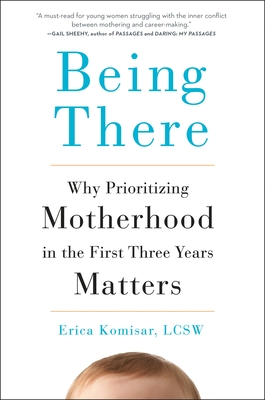 I wrote Being There because I saw a disturbing trend in my practice and in society of more children being diagnosed earlier with mental disorders and emotional problems. And I discovered, over the course of my own 27 years in practice and in my research into attachment theory, neuroscience and psychoanalysis, was that children were at higher risk for social, emotional and developmental issues when the essential presence of a mother is missing. It became clear to me that as a society we were failing our children by not placing greater emphasis on the role of motherhood in the first 3 years of life.
The number of children as young as 2 who are being labeled with ADHD, behavioral problems and social disorders is increasing at an astonishing rate. According to the US Census from 2015 approximately 1 in 4 children will be diagnosed with a mental disorder before the age of 18. Anti-depressant use in adults and young adults in the US has risen over 400% since 1988 (according to the CDC).
I hope to reach mothers, fathers, pediatricians and policy makers to alarm them and educate them about the need to value this period of development and to support, rather than deny the importance of mothers in these early years.
2. Is there a book on motherhood that influenced your interest and writing?
The Magic Years, Selma Fraiberg
It's a book on toddlerhood both deeply psychological and accessible to parents as well as clinicians. It deserves it status as a classic book about early childhood.
3. What are you currently reading?
Dan Siegel, Brainstorm: The Power and Purpose of the Teenage Brain. Toddlers and teens have a lot in common, emotionally and psychologically.
4. Is there anything you are particularly looking forward to the publication of?
This was just published, but I haven't had a chance to read it yet. It's a wonderful historical novel, A Gentleman in Moscow by Amor Towles. And Why Times Flies, by Alan Burdick, which is about time and how we experience it throughout our lives.
5. What's next? Any upcoming book projects in the works that you can tell us about?
I'm working on a book about parenting teens, who (as I said) have a lot in common with toddlers.
Thanks, Erica!
---
Erica Komisar, LCSW is a clinical social worker, psychoanalyst and parent guidance expert who has been in private practice in New York City for the last 25 years. A graduate of Georgetown and Columbia Universities and The New York Freudian Society, Ms Komisar is a psychological consultant bringing parenting and work/life workshops to clinics, schools, corporations and childcare settings including The Garden House School, Goldman Sachs, Shearman and Sterling and SWFS Early Childhood Center. She lives is New York City with her husband, optometrist and social entrepreneur Dr. Jordan Kassalow, and their three teenage children.