Q&A with Karen Winnick
Submitted by info@bookculture.com on Tue, 04/11/2017 - 7:59pm
On Saturday, April 29th at 11am, Karen Winnick will be joining us for a special storytime to read from her new book, Good Night Baby Animals, You've Had a Busy Day. In anticiaption, we asked her a few questions.
1) How did you come to write Good Night Baby Animals, You've Had a Busy Day?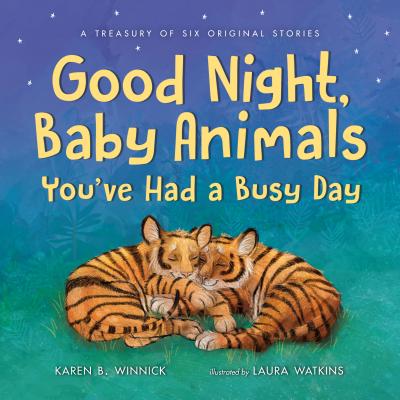 I love animals and enjoying reading about them. I especially like writing stories about them for kids. Showing the connection between our lives and those of other species is important to me. Baby elephants don't know how to use their trunks so their mothers teach them. Baby giraffes are born tall but must grow even taller to feed themselves. Baby gorillas and tigers want to play and baby pandas are hungry all the time. Baby rhinos don't see well but must practice defending themselves. Young children have similar experiences—well maybe not using their trunks! Both have busy days learning and experiencing new things. At the end of the day they're very tired and it's time to go to sleep.
2) What other picture books are you excited about?
My book, How Lucky Got His Shoe was just published by the Santa Barbara Zoo. Lucky is a real penguin at the zoo whose foot was not growing properly. Infections set in. Lucky had trouble walking and couldn't swim. Then Teva, a company that makes water shoes, created a perfect shoe for Lucky that enabled him to walk and swim and saved his life. This is my second book about an animal with a disability. Gemina, the Crooked Necked Giraffe was my first. I like to show kids that despite their differences, these animals have done just fine.
3) Do you have a personal favorite children's book of all time? If so, can you share it and tell us why?
I've always loved Charlotte's Web by E.B. White. I've read it many times but the first was when I was in third grade and I've never forgotten the story of Wilbur the pig and how Charlotte saved his life. What strikes me more than anything is how much I've cared about Wilbur and Charlotte and Fern, too. I've never hurt a spider intentionally or eaten pork. The setting, the writing and of course the characters are all terrific.
4) Is there anything you are particularly looking forward to the publication of?
I'm writing and rewriting stories all the time and always hoping that some will be accepted for publication. And I'm always purchasing books by many wonderful authors for my grandkids and for myself, too. Many of them are about animals. I like stories best where animals are real and the stories are told with emotion and humor. There are so many good ones.
5) What's next? Are there any upcoming book projects in the works that you can tell us about?
I have a collection of poems and also a collection of stories about animals in zoos and aquariums that I've completed. But at least one of these projects will need some rewriting!

$17.99
ISBN: 9780805098839
Availability: On Our Shelves Now - Click Title to See Location Inventory.
Published: Henry Holt and Co. (BYR) - January 24th, 2017
---
Recent blog posts