Q&A with Tommy Pico
Submitted by info@bookculture.com on Wed, 04/19/2017 - 7:07pm
We're big fans of poet Tommy Pico at Book Culture. His newest book, Nature Poem, is just out from Tin House Books; those of us who loved his IRL have been eagerly awaiting its release (and for Junk, out May 2018). When we found out he'd be coming to Columbia to take part in their Art+Life reading series this week, we took the opportunity to ask him a few questions.
1. How did you come to write Nature Poem?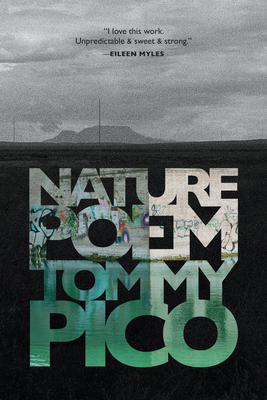 I had just spent four months hold up in an office in Greenpoint writing my first book (IRL) while all my friends went to the beach and lakes upstate and shit. I decided to stay with a friend for a few weeks in PDX with the express goal of doing nothing. After two days of that I started to get anxious (I'm bad at like three things and relaxing is one of them [jk I'm bad at a lot]), and I just started writing Nature Poem.
2. While Nature Poem is tragic, touching, and something downright sad, you aren't afraid to be funny too. How do you think your humor is connected to the more serious issues you take up in your poetry?
I guess I feel like I have to earn those sadder moments by opening with a joke. It's a little bit of a bait and switch, a little bit country, and a little bit rock & roll.
3. In addition to your writing, you have been/are very involved in various community and literary organizations--birdsong, Lambda Literary, Poets With Attitude. How do you view the connection between your work in the (literary) world and your poetic creation?
I'm from an Indian reservation near San Diego where I was raised to put a premium on community. In lieu of the place I left, I find myself creating community wherever I go. That's maybe a really corny way of saying it. In another way: to create work that expresses a kind of vulnerability, I need to feel like I'm taken care of and held onto in other ways.
4. What are you currently reading? And as you ask on your podcast Food 4 Thot (which we also love), who are you currently reading?
I'm currently reading Garth Greenwell's What Belongs to You and Whereas by Layli Long Soldier. In terms of reading, I'm just sitting here watching all these presses who rejected my first book add me on Twitter like… hey b, you good?
5. What's next for you? Any upcoming book projects in the works you can tell us about?
I'm currently working with Cinereach Ltd. on a screenplay, and that's all I can contractually say on the matter ;-)
Thanks, Tommy!