Q&A with Susan Silver
Submitted by info@bookculture.com on Tue, 05/16/2017 - 5:06pm
Local author Susan Silver's new memoir, Hot Pants in Hollywood: Sex, Secrets, and Sitcoms, has just come out. To celebrate its release, we asked her a few questions.
1) How did you come to write Hot Pants in Hollywood?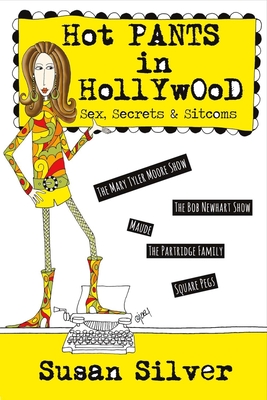 I had always wanted to write a book about the incredible amount of iconic people I'd met in in my life...kind of like Zelig,or Ms. Zelig. I started on it a couple years ago and it morphed into this book.It's kind of three books in one: my early life as a Midwest girl wanting to go to Hollywood, my first working and writing experiences as a female in a man's world, and finally going through what all Baby Boomers do...marriage, divorce, reinventing yourself, search for love and taking care of elderly parents. And I'm still here! I hope it inspires others and gives a few laughs as well.
2) How was the process of working on this book different from your many other writing endeavors?
Totally different. No one telling you what to say or to say! Then of course having to cut and choose what to leave out or leave in. A great editor Leslie Wells who did all of Mitch Albom's books helped me with that.
3) What are you currently reading?
To tell you the truth I did'nt read for a couple months while finishing the book. Now I will start again. Have Hitler: Ascent and Jonathan Safran Foer's Here I Am waiting for me to begin.How's that for a contrast?
4) Do you have a personal favorite book of all time? If so, can you share it and tell us why?
As a child I loved The Secret Garden and still think of it both realistically and metaphorically as a beckoning romantic force.
5) What's next? Any upcoming book projects in the works that you can tell us about?
Lots of touring and book store events. I love doing TV and Radio and have some of those booked also...hope to get my own show perhaps....hint hint.
Thanks, Susan!
---
Born in Milwaukee, Wisconsin, trailblazing comedy writer and cultural commentator Susan Silver has written for The Mary Tyler Moore Show, The Bob Newhart Show, Maude, The Partridge Family and Square Pegs. She has appeared on CNN, HLN, Good Day NY and Today, and has written for The New York Times and Refinery 29. Susan attended Northwestern University and graduated from UCLA, and has taught comedy at the Television Academy, and New School as well as lectured at the Paley Center, SCAD, and Brandeis University.

$17.95
Email or call for price
ISBN: 9781483595672
Published: BookBaby - April 27th, 2017
---

$28.00
Email or call for price
ISBN: 9780374280024
Published: Farrar, Straus and Giroux - September 6th, 2016
---

$8.99

ISBN: 9780064401883
Availability: On hand at one or more locations, see product page for details
Published: HarperCollins - December 21st, 2010
---
Recent blog posts