Q&A with David MacNeal
Please allow 3-4 days for order processing for ALL orders, in addition to shipping times.

We are currently working with very limited staffing and your patience is greatly appreciated. Thank you!
Submitted by info@bookculture.com on Wed, 05/31/2017 - 12:13pm
We're very excited to be hosting an event with David MacNeal on July 20th to promote his new book, Bugged: The Insects Who Rule the World and the People Obsessed with Them. He was kind enough to answer a few questions for us in anticipation.
1) How did you come to write Bugged?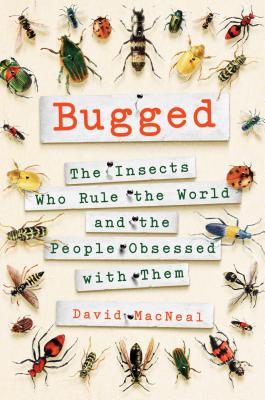 I was really fortunate. I'd written a feature story for WIRED and about a month or so later this literary agent reached out and asked if I have any book ideas. I got SUPER excited, said "yes," gave him the gist, and he said … no.
But my second book idea was about my fascination with insects. This small piece I did about bug sushi got the wheels spinning. So, after months of research, I wrote a book proposal, my agent sent it off, and it got picked up by St. Martin's Press. The best part was having my friend Michael Kennedy do the illustrations. He also shares my sentiment for the weird, so it was great having him collaborate.
2) What are you currently reading?

Always balancing a book and graphic novel or comic. Right now, I'm halfway through Asimov's The Gods Themselves, and Image's The Autumnlands by Kurt Busiek (writer) and Benjamin Dewey (illustrator). They are both excellent.
3) Do you have a personal favorite book of all time? If so, can you share it and tell us why?

Damn. Well, not really. But I can tell you about one that really changed my view on stuff. This'll sound pompous as shit, but I was on a train in Europe riding between countries, and I'd just finished East of Eden. I'm not spoiling it (I hope) when I say the book managed to destroy me with one word. One word! Exceptional story design. Needless to say, I teared up immensely and had to run to the bathroom to sob. I had never been undone in such a way. Even now I get goosebumps just thinking about it.
4) Is there anything you are particularly looking forward to the publication of?

This is a first for me, so it's hard to say. However, I hope that people will view insects differently. View them for the incredible, ecological glue that they are, and perhaps even start a garden (however small or vertical) of diverse plants to help them flourish. The book is a collection of strange and brilliant people, and my hope is that it will inspire others—even if that's just a handful of people—and alter their perception of this funny world.
5) What's next? Any upcoming book projects in the works that you can tell us about?
Ooooh boy, welp, a lot of projects in the works ranging from video games to comics. But I will say that I've finished a proposal for a second nonfiction book, and we'll be discussing what happens with it soon. I won't say much about it now except that it doesn't involve bugs, and that it'll cover another interesting, little-explored part of our world, delving, like Bugged, into history, science, and a subculture of intriguing people.
Thanks, David!
---
DAVID MACNEAL is a journalist orbiting the fringes of science, technology and culture. His articles have appeared in Wired, Outside, 5280, and other publications. Aside from geeking out over comic books, he bakes exquisite pies (especially blueberry) and drinks an array of whiskey. Sometimes the glass contains bugs. He currently lives in Denver.