Women in Translation Month Q&A with Lina Meruane
Submitted by info@bookculture.com on Mon, 08/07/2017 - 3:34pm
August in Women in Translation Month--a whole month dedicated to celebrating literature by women in translation! We started the month by talking about some of our favorite books by women in translation; on Friday we hosted a fantastic event with translators Susan Bernofsky, John Keene, Ann Goldstein, and Nathan Xavier Osorio. Next up we have Lina Meruane, an author we love, whose book Seeing Red was translated by Megan McDowell.
1. August is Women in Translation Month, which was created to celebrate books by women in translation, and to draw attention to the fact that only 30% of all books translated into English are written by women. Why aren't more works by women being translated?
Sometimes one feels there's been a plot to leave women out of the press, and I think this was true for a very long time but perhaps not today, or not in that systematic way. The exclusion of works by women in general and of works in translation authored by women is more subtle –editors don't find those works, or don't like those works and no one seems to recommend them because no one has read them... A vicious cycle? One might say this is how hegemony works. Once it was decided that books by men were better, that is, had more literary prestige, this became an established truth. At least in my generation, we still only read books (mostly) by men. It proved very difficult to get out of this (almost) unquestioned idea. Even for women editors, agents, critics, or especially for those women, who have battled so long for respect in a male dominated scene... This trying to be recognized, to be valued as an intellectual partner, to adapt to masculine expectations can be very tricky. There is no system in place to naturalize equality and when efforts are made we get criticized by our peers… So finding, reading and recommending books written by women is still a very important political endeavor.
I had my writing students, all from different places of the Spanish speaking world, participate in an experiment to see if this impression was right. I asked them to list their 10 favorite books of all times. Then I calculated how these 150 books divided along the lines of gender, genre and place. Not surprisingly, among the chosen books, those by men scored 80%, US writers scored 60% (Africa and Asia were not even mentioned the list) and novels won by far, too, over poetry, essay and plays. After this, I made a point of always telling my writing students we must try harder to get out of our comfort zone, which is where convention is. To find those other writers. To remember to mention them instead of going back to the old canon. (And I mean not only women!) We do not need to continue to recommend the established masters as much as the silenced ones. And it´s still important to keep raising this issue, too. Interestingly, this just had an effect in Paraty, one of Brazil´s most important literary festivals: after much complaint about the scarcity of women, this year women writers represent more than 50%. And all those women are exceptional. Another example: my publisher, Deep Vellum, has made a point in publishing 50% of its books authored by women, and Women in translation is yet another wonderful initiative of this sort.
2. How did Seeing Red come to be translated and published in English?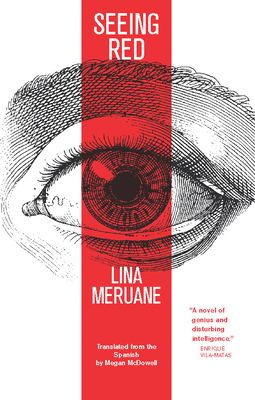 I've been in the US for 17 years now, and it took almost that amount of years to get a novel published in English. It's not only that I am a woman from a country that does not carry the literary weight of countries such as Argentina or Mexico, until, perhaps, very recently. An additional obstacle here is that the original is in Spanish and the US publishing world does not, generally speaking, read in that language. And Spanish is still not considered a prestigious literary language as French still is (and it should, but then, all languages have great writers, it's really not a question of language but of the powers languages represent). That made it harder, I think. And then, it's also that going blind is not a very eye-catching theme! People are, I've discovered, very frightened by blindness. Fortunately for me, the novel got an important prize in Mexico, then the wonderful Megan McDowell took an interest in my novel (she wanted to translate more women herself) and Will Evans, my editor, has had an egalitarian stance in publishing at Deep Vellum. All of this opened a door for my book.
3. You've had work translated into several other languages in addition to English. What has the reception to your work been like in other languages? Do you feel there's a difference in the way translated literature is read and thought about outside of the anglophone world?
I don't think it's radically different. But to find some differences, my impression (and it's really only an impression) is that in Italy people were interested in the metaphorical connection of blindness and the Chilean dictatorship which is very much in the background, in the US the conversation was about the autobiographical element and the relation between blindness and memory in the novel, and in Brazil, all of the above plus the erotic episodes in the novel. We´ll have to wait for translations still in the making: German, French and Dutch.
4. Given that so few books by women are translated into English, it's clear that we're missing out on many great writers. Who are some of your favorite female writers who haven't been translated yet, but should be?
There's plenty of young women writers who will eventually get translated, so let me mention women who seem to have missed out for decades. Chilean writers Marta Brunet and Diamela Eltit (the latter had only one book translated but all of her work should appear in English). And then, Elena Garro only had one book translated, but not the spectacular Andamos huyendo Lola, or her short stories, and also Amparo Dávila and Cristina Rivera Garza (she will be finally out in English by The Feminist Press, later this year, but it's only one novel for now). English readers are also missing the great Norah Lange, Maria Moreno and Matilde Sánchez. There are many more, though, from many other countries.
5. Can you tell us about what you're working on now? When might we see another one of your novels in English?
I was writing a novel about a southern cone war, but another one, a fragmented family story, got in the way. That's the one I'm about to finish now and I'd rather not go into the details. There are no plans for another translation yet. It seems editors would rather wait before committing to the backlist or future books. I am very much hoping that my non-fictional piece, Volverse Palestina /Becoming Palestine will be published soon. It has already been translated by my friend, the wonderful Andrea Rosenberg.
Thank you Lina!
Lina Meruane is an award-winning Chilean writer and scholar, teaching at New York University. Since 1998, she has authored a short-story collection, a play and four novels. The most recent, Sangre en el ojo, was awarded the prestigious Sor Juana Inés de la Cruz Prize in Mexico and has been translated into English (Seeing Red, Deep Vellum 2015), Italian, German, Dutch, French and Portuguese. Meruane has also received the Anna Seghers Prize (Berlin, 2011) and Calamo Prize (Spain, 2016), as well as literary fellowships from the Guggenheim Foundation (US 2004), the National Endowment for the Arts (US 2010) and the DAAD Artists in Berlin Program (Germany 2017) . More recent publications include her essay book on the impact of AIDS in Latin American literature, Viral Voyages (Palgrave McMillan, 2014), a literary piece on her Palestinian origins, Volverse Palestina (Becoming Palestine, 2014) and a short essay book called Contra los hijos (Against children, 2014).
Author photo by Daniel Mordzinski

$14.95
Email or call for price
ISBN: 9781941920244
Published: Deep Vellum Publishing - February 23rd, 2016
---