Q&A with Khiara M. Bridges, author of The Poverty of Privacy Rights
Please allow 3-4 days for order processing for ALL orders, in addition to shipping times.

We are currently working with very limited staffing and your patience is greatly appreciated. Thank you!
Submitted by info@bookculture.com on Sun, 08/13/2017 - 10:34am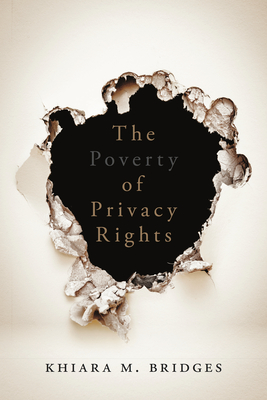 Khiara M. Bridges is Professor of Law and of Anthropology at Boston University. She is the author of Reproducing Race: An Ethnography of Pregnancy as a Site of Racialization (2011) and The Poverty of Privacy Rights (2017) out this past June from Stanford Law Books. Khiara took some time to answer a few of our questions about The Poverty of Privacy Rights, ethnographic research, and poverty in the United States. Read her answers below!
1) How did you come to write The Poverty of Privacy Rights?
I had become increasingly frustrated with the way that we, as a society, talk about rights. We tend to talk in a way that presupposes that everyone has the same set of rights – even though the government treats people in vastly dissimilar ways. With respect to poor mothers and mothers-to-be, we say that they enjoy the same privacy rights as their wealthier counterparts. We say this even though wealthier mothers, to a certain extent, can prevent the government from intervening in their lives, while poor mothers have absolutely no ability to do the same. So, I wrote the book because I wanted to challenge this conventional thinking. What if we stopped saying that we all have the same rights? What if we describe certain groups – poor mothers, for example – as without privacy rights, as disenfranchised? Would that change the satisfaction that we feel about the status quo? Would that give us a greater sense of urgency about addressing present-day inequalities?
2) Does ethnographic training help you better tell this story and frame the legal argument?
Being an anthropologist makes me extremely attentive to what's happening out there in the real world. I came to the legal argument that I make in the book because I recognized that a vast chasm separates the way that lawyers and jurists talk about rights and the way that people in the real world are living these "rights." I think that my ethnographic training is responsible for my recognizing that this chasm exists. At the very least, my training is responsible for my being so annoyed by the chasm that I felt compelled to write a book about it!
3) Does your book make any recommendations on how to better help this population?
So, poor mothers and poor mothers-to-be are treated with incredible suspicion and distrust, and they are subjected to intense surveillance – surveillance that their ostensible privacy rights are supposed to prevent. I don't think that the answer is in the law, though. I don't think that poor mothers are going to be treated with dignity and respect simply because the Supreme Court hands down a pivotal decision or because Congress passes a piece of sweeping legislation. I think that the answer is in cultural change. I think that we have to change the stories that we tell about why people are poor – and why people insist on being and becoming mothers despite their poverty. Only then will poor mothers enjoy the privacy that their privacy rights are designed to provide.
4) What are you currently reading?
I'm reading a lot of law review articles these days. (Nothing new there.) But, I've been trying to make time to read more fiction. I'm currently in the middle of The Ministry of Utmost Happiness by Arundhati Roy. It's beautiful, tragic, poetic, grand in scope – everything that a law review article is not! Before The Ministry of Utmost Happiness, I read Another Brooklyn by Jacqueline Woodson. Such a stunning story. It reminded me that I am incredibly lucky to have survived girlhood.
5) What's next? Any upcoming book projects in the works that you can tell us about?
I've been fantasizing about returning to the field and writing another ethnography. This one will be about the prenatal care experiences of class-privileged women of color. (My first book, Reproducing Race, is an ethnography of the prenatal care experiences of indigent women of color.) The subjects of this second ethnography-in-my-head are women who are privileged by virtue of their socioeconomic status, yet unprivileged by virtue of their race/ethnicity. I would love to get do an up-close, sustained examination of what this combination of privilege and unprivilege looks like on the ground.
---
Thanks Khiara! Click here to learn more about The Poverty of Privacy Rights!