Sara's Review of The Half-Drowned King by Linnea Hartsuyker
Submitted by info@bookculture.com on Wed, 08/16/2017 - 7:18pm
Sara, from Book Culture on Columbus, reviewed Linnea Hartsuyker's The Half-Drowned King! Read her review to learn more about this exciting adventure story!
---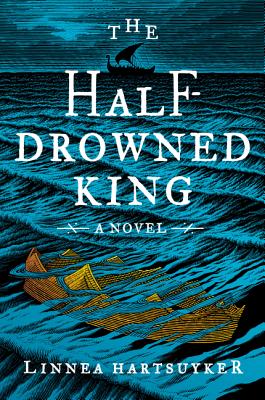 Honor, family, battle, these are the things that Ragnvald Eysteinsson lives by. He follows these standards on his very first raiding trip on a boat captained by Solvi Hunthiofsson, a man he believes will bring him to riches and fame. Unbeknownst to Ragnvald however, Solvi has entered into a deal with Olaf, Ragnvald's stepfather, to kill Ragnvald. By the grace of the gods Ragnvald survives and swears revenge on those that tried to harm him. With his desire for revenge and a vision of a golden wolf to guide him Ragnvald sets off on an adventure that takes him far from all he knows and puts him straight into a war between kings.
After Ragnvald survives the attempt on his life he decides that it is time he takes things into his own hands and promises himself that he will seek revenge for the wrongs done to him at the annual ting, the annual meeting of all the surrounding clans where all legal matters are settled, by taking his stepfather and Solvi before the jury. When Ragnvald arrives at the ting grounds he sees that king Hakon is there with his sons, including Oddi a baseborn son that is a dear friend of Ragnvald's. After things go bad at the trial and Olaf and Ragnvald agree to a duel Ragnvald decides to stay the night in Hakon's camp, to catch up and stay safe until the duel. However Olaf has other plans and sneaks into Hakon's camp that night and attempts to murder Ragnvald. When he is discovered and Ragnvald is saved once more, Ragnvald decides that it is too dangerous for him to go home to reclaim his lands right away. Instead he pledges his sword to Hakon and promises to serve him well and honorably until such time as Hakon feels he has fulfilled his duty at which point Hakon will provide him men to take back what is rightfully his. So begins Ragnvald's journey into a world of king's, war and ultimately revenge.
I have always been fascinated by Norse mythology, vikings and epic tales so I had a feeling that this book would be right up my alley. I was not wrong. The Half-Drowned King gave me everything I wanted in an adventure tale, namely adventure. Ms. Hartsuyker is a debut novelist that had a truly great idea and just ran with it. I thought that in general her ideas, story and characters were all really well put together. There were times however where her writing read very much like a first time writer. It was never anything that took too much away from the book but it was a little jarring. This, however did not make it any easier to put down or to stop thinking about it. I slowly fell into somewhat of an obsession with the story.
Because all you lovely readers out there don't know me let me explain what it takes to make a book great for me. It has to have a great story, great characters and great writing. If a book has two of the three I still consider it a good book, and if it has only one as long as that one thing is very strong I still view it as readable. For me The Half-Drowned King was a good book. The story was mesmerizing and the characters were fascinating. I had a hard time deciding who I wanted to root for because all of the characters were so dynamic. So easy to fall in love with while you followed their journey but so easy to hate when you saw things from the other side. Linnea Hartsuyker did a truly beautiful job with bringing her characters to life and giving them real personalities.
As an all around book The Half-Drowned King was pretty good. I think that it is one of those sleeper books that don't get a lot of press at first but is such a good book that it has to be read. This is a true adventure novel, the kind that takes you to another time and place and whisks you away, to battles on the high seas, tournaments on ice and great feasts overseen by kings. Is there really anything else that you need for a good adventure?
The book is well put together and makes for a truly intriguing tale that I really enjoyed getting lost in. I can't say that it was the most well written of books but I liked it and I think that with time Linnea Hartsuyker will polish out her writing and become a good writer as well as a great storyteller. I thoroughly enjoyed this novel and I really think that you will too. That is if you like adventure stories, or stories about vikings, or adventure stories about vikings, or boats, or Norway or adventurous stories about vikings on boats in Norway!
But don't take my word for it, go to your local Book Culture and pick up a copy for yourself. Happy reading!
---
Click here to find some of Sara's staff picks!

$27.99
ISBN: 9780062563699
Availability: Not in Stock - Available for special order
Published: Harper - August 1st, 2017
---
Recent blog posts