Q&A with Joanna Walsh, author of Worlds from the Word's End
Submitted by info@bookculture.com on Tue, 09/12/2017 - 5:51pm
Joanna Walsh has just published her fifth book Worlds from the Word's End (And Other Stories, 2017) and took the time to answer some questions for an author Q&A. One of the most exciting voices in contemporary fiction, Walsh is the author of Vertigo, Hotel, Grow a Pair, and Fractals. Her writing has also been published in Granta, The Dalkey Archive Best European Fiction 2015, Best British Short Stories 2014 and 2015, The Stinging Fly, gorse, The Dublin Review and many more. She was a judge on the 2016 Goldsmiths prize, is a contributing editor at 3:AM Magazine and Catapult, and is the founder of @read_women. She was awarded the 2017 UK Arts Foundation Fellowship in Creative Non-Fiction. Read her answers below!
Photo by Lauren Elkin
While I'm excited to talk about Worlds from the Word's End, I've also been following your recent thoughts in the Guardian and on Twitter on ageism in the literary community. You're calling attention to the fact that many writers, including a disproportionate number of women and minorities, face difficulties starting writing until a later age. Do you have any advice specifically for writers who want to start later?
I wouldn't want to say there's a right time for anyone to start writing, only that all entry-points should be respected and, preferably, supported. Elisa Gabbert's advice here seems pretty good. But her questioner doesn't seem to have started 'late' due to any of the many reasons I've heard from respected writers who cite poverty, illness, racism, care responsibilities, amongst other reasons they couldn't start earlier... Right now it's the very writers who've struggled most to find the time and confidence to write who are often told, when they finally get there, that they don't qualify to enter. These writers have to deal not only with practical issues of exclusion, but with the blows to their confidence it causes. I'd add to The Blunt Instrument's advice: if you don't have access to mainstream publishing, (and even if you do), find a community of people who have been through similar experiences, and/or who want similar things: some of them will get through, and help you (and if it's you, make sure you pass it on too). Publish your own work, preferably as a group for more impact, and work with other sympathetic groups, but try not to be too disillusioned with the mainstream: there are people there who are not happy with the things as they are. Look out for them. And ask, ask, ask. Also, don't be afraid to call out discrimination: the route to being published can feel like a prisoner's dilemma (those who keep their heads down win, or at least don't lose) but most likely you have less to lose than you have to gain by trying to change the situation. Even the trying can win you friends, colleagues, experience...
Following from that, how did you start writing? How has your writing life changed since your first book Fractals?
I started writing because there were things going on in my life I couldn't deal with in any other way than writing. I wrote about this in Hotel.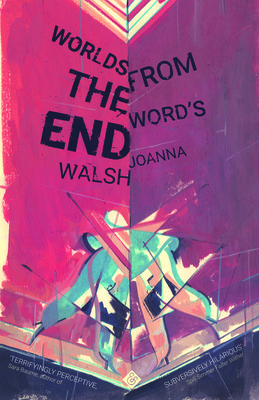 Your latest book, Worlds from the Word's End, feels formally like your previous book Vertigo, but your tone here is much more surreal and playful. How do you view the change between the two projects?
I wrote many of the stories for WFTWE at the same time as those for Vertigo. I sent them all to Danielle Dutton at Dorothy, and she suggested a collection of stories with a hyperreal, but nevertheless 'realist' setting, dealing with women within family and other relationships. Many of the stories that didn't go into that collection deal with similar issues, but via more fanciful scenarios. The interest in language is there in Vertigo, as is the humour (I love it when readers tell me they find Vertigo funny), just as the themes of surviving within relationships and other human systems are there in WFTWE. It's a question of coming at the same ideas from different angles.
Each of these stories functions as a self-contained unit, but at the same time, it makes complete sense that they all share a collection. How do you shape each story and how did they influence the writing of each other?
Short stories are often thought of as separate enterprises, but I consider all of my writing as work with the same themes, which develop and change as the writing progresses. Obviously with short stories, each has an individual shape, and you have to decide to end at some point... but I've heard it's the same with novels...
What were your influences in writing this book? And we always like to ask, who are you reading now? What books would you recommend?
Some influences are specific to particular stories: I was thinking of the the Oulipian series of "Voyage d'Hiver" stories, when I wrote "Bookselves," and I used a quote from Flann O'Brien's The Third Policeman in "Like A Fish Needs A..." I also used a feminist tagline in the title, and the idea of processing O'Brien-y concepts via a woman's body may well have made him run a myle, so the whole thing is as much rebellious as it is a tribute. But I'm always processing influence in everything I write, sometimes in such tiny ways that I can't imagine it could be for more than my own satisfaction.
As for recommendations, I'm teaching at the University of Kent in Paris this autumn, and the texts I've chosen for my workshops include Isabel Waidner's Gaudy Bauble, Alejandro Zambra's Multiple Choice, Chris Kraus's I Love Dick, Anakana Schofield's Martin John, Ben Marcus's Age of Wire and String, Claire-Louise Bennett's Pond, and my own 'book', Seed, because I wanted to teach something about ways of structuring digital literature. And for fun I just read Annie Ernaux's newly-translated experimental memoir, The Years, and I'm deep in Jacques Roubaud's The Loop.
Thanks Joanna! Be sure to pick up a copy of Worlds from the Word's End, out now!

$13.95
ISBN: 9781911508106
Availability: On Our Shelves Now - Click Title to See Location Inventory.
Published: And Other Stories - September 1st, 2017
---

$16.00
ISBN: 9780989760751
Availability: On Our Shelves Now - Click Title to See Location Inventory.
Published: Dorothy a Publishing Project - October 1st, 2015
---

$16.95
ISBN: 9781628924732
Availability: Not in Stock - Available for special order
Published: Bloomsbury Academic - September 24th, 2015
---
Recent blog posts