Author Q&A with Jenny Zhang
Submitted by info@bookculture.com on Sun, 10/29/2017 - 2:55pm
On Friday, November 10th at 7pm, Columbia's Art + Life reading series features Jenny Zhang, in conversation with Kate Zambreno. Jenny Zhang is an American writer and poet based in Brooklyn, New York. She is the author of the story collection Sour Heart, the poetry collection Dear Jenny, We Are All Find and a collection of poetry and essays, The Selected Jenny Zhang. In anticipation of her reading, Jenny answered a few questions. Read what she has to say below! You can RSVP for the event on Facebook here.
---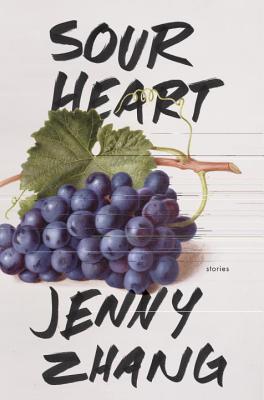 1) How did you come to write Sour Heart?
I started writing the first iterations of these stories when I was in college and kept going until I got to the last story in grad school. Then these stories were shelved for a while--sometimes I return to them and pick at them and they'd scab over and I'd leave them alone again. Then a few years ago, I decided I would resuscitate them, give them new life.
2) How does your writing process differ (and does it differ?) from poetry (as in Dear Jenny, We Are All Find) to short stories (as in Sour Heart)?
The process is longer, more considered, less sloppy because I'm more willing to fuck with prose, surgically excise entire pages and add in entirely new words, and with poetry I'm less inclined to do that kind of intense editing. It seems like the souls of the poems I wrote cannot survive such belabored reconstruction.
3) What have you been reading lately?
I've been reading the fiction of Carmen Machado, Zadie Smith, Eileen Chang, and Kathy Acker, and the poetry of Timmy Pico and Frank Stanford.
4) Are there any forthcoming books that you're particularly looking forward to?
I'm excited for Tom Macher's memoir Halfway & Tommy Pico's new book Junk.
5) What's next? Any upcoming book projects in the works that you can tell us about?
The old country in me is very superstitious so nothing can be revealed until it's fully formed, and unfortunately, nothing is right now.
---
Thanks Jenny! Be sure to come hear her read on November 10th. Details are available here.You can RSVP for that event here!
Recent blog posts