Find out what Romance Book Club will be reading this month!
Submitted by info@bookculture.com on Wed, 02/14/2018 - 12:00pm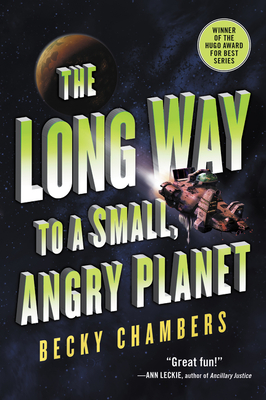 On Tuesday, March 13th, Romance Book Club will read The Long Way to a Small, Angry Planet by Becky Chambers.
Follow a motley crew on an exciting journey through space--and one adventurous young explorer who discovers the meaning of family in the far reaches of the universe--in this light-hearted debut space opera from a rising sci-fi star.
Rosemary Harper doesn't expect much when she joins the crew of the aging Wayfarer. While the patched-up ship has seen better days, it offers her a bed, a chance to explore the far-off corners of the galaxy, and most importantly, some distance from her past. An introspective young woman who learned early to keep to herself, she's never met anyone remotely like the ship's diverse crew, including Sissix, the exotic reptilian pilot, chatty engineers Kizzy and Jenks who keep the ship running, and Ashby, their noble captain.
Life aboard the Wayfarer is chaotic and crazy--exactly what Rosemary wants. It's also about to get extremely dangerous when the crew is offered the job of a lifetime. Tunneling wormholes through space to a distant planet is definitely lucrative and will keep them comfortable for years. But risking her life wasn't part of the plan. In the far reaches of deep space, the tiny Wayfarer crew will confront a host of unexpected mishaps and thrilling adventures that force them to depend on each other. To survive, Rosemary's got to learn how to rely on this assortment of oddballs--an experience that teaches her about love and trust, and that having a family isn't necessarily the worst thing in the universe.
---
Led by Eloisa James, the Romance Book Club is linked to our Book Culture Selects Romance subscription, as Eloisa and interested readers meet every other month to discuss featured titles in person. Do you live anywhere around New York City? Subscribers have first dibs to sign up for each meeting at the Columbus Avenue Book Culture. Come along, make friends, and hang out with romance readers who love the genre-and love to think about it in smart, fun ways. Whenever possible, guest authors will join the discussion. If you have questions or would like to add yourself to the list for attendance, please email romance@bookculture.com.
Note: Attendance is limited to 20 members for this book club. Due to high demand, please RSVP at romance@bookculture.com. For those unable to attend the event, Eloisa will stream the book club via Facebook Live.

$17.99

ISBN: 9780062444134
Availability: On hand at one or more locations, see product page for details
Published: Harper Voyager - July 5th, 2016
---