Q&A with Corinne Sullivan, Author of Indecent
Submitted by info@bookculture.com on Mon, 03/05/2018 - 3:11pm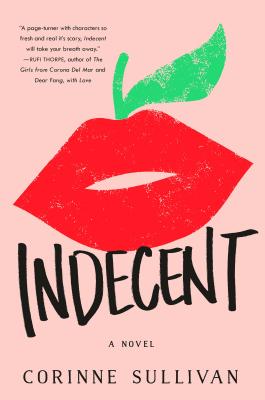 We're so excited to celebrate the release of Corinne Sullivan's debut novel Indecent! Corinne studied English with a Creative Writing Concentration at Boston College, where she graduated in 2014. She then received her MFA in fiction from Sarah Lawrence College in 2016. Her stories have appeared in Night Train, Knee-Jerk, and Pithead Chapel, among other publications. Indecent is her debut novel. She also works as a bookseller at Book Culture on Columbus! Learn about Corinne and Indecent in this author Q&A, then click here to order your copy of the new book!
1) How did you come to write Indecent?
In college, I started writing a series of interlocking short stories for my thesis surrounding matters of women in relation to bodies, intimacy, and mental illness. In grad school, I took the story that I felt the greatest sense of urgency and started developing it in earnest. Depression in fiction is often signaled by lethargy and indifference, and I wrote this novel to explore the many different ways depression can manifest itself: unease, unrest, a desire to make things happen no matter the consequences, and - most notably - obsession.
2) How has your writing process changed from your undergraduate study in creative writing to your MFA? Any advice for people who want to study writing?
I was discouraged from pursuing my MFA directly after undergrad by some of my professors, who suggested that I might gain some life experience before I made the investment. However, what was more essential to me was having structure: I had no doubt that I wanted to become a professional writer, but I craved deadlines, assignments, feedback. The two years I spent in my program gave me the time to write Indecent, but it also allowed me to study craft and prose on a level I never had before. I learned the importance of reading voraciously - reading everything! - and figuring out exactly how and why the stories of writers I admire work. MFAs are not for everyone. If you enjoy writing, don't apply for a program. If writing is the only thing you've ever wanted to do and you can't imagine your life without it, give it a shot.
3) What have you been reading lately?
In February, I read The Great Alone by Kristin Hannah, I Am, I Am, I Am by Maggie O'Farrell, White Houses by Amy Bloom, Feel Free by Zadie Smith, You Think It, I'll Say It by Curtis Sittenfeld, and - my favorite book so far in 2018 - The Friend by Sigrid Nunez.
4) Are there any forthcoming books that you're particularly looking forward to?
I'm very excited to read Clarissa Goenawan's Rainbirds and Caroline Kepnes' Providence.
5) What's next? Any upcoming projects in the works that you can tell us about?
I have a draft of a second novel that takes place in Ireland and took me very much out of my comfort zone to write. I hope with each new novel to push myself a little farther and to see just what I'm capable of doing if I allow and trust myself.
Thanks, Corinne! Be sure to follow her on Twitter, like her Facebook page, and check out her website! Then, find a copy of Indecent at your Book Culture location or order one online here!
Recent blog posts