Author Q&A with Kate Colby
Submitted by ahfales on Wed, 04/18/2018 - 11:49am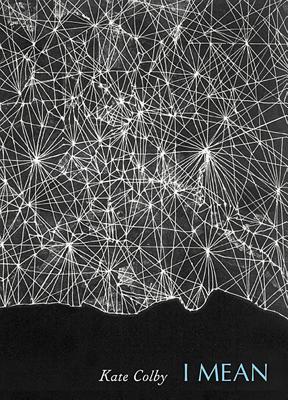 It's National Poetry Month! To celebrate, we have a wide range of programming and other happenings to celebrate some of our favorite poetry. We sat down with poet and essayist Kate Colby for an author Q&A. Read the conversation below!
Kate Colby is author of six books of poetry, most recently I Mean (Ugly Duckling Presse, 2015). The Arrangements is coming out with Four Way Books in 2018 and The Itch, a book of essays, will be out with Noemi Press in 2019. Fruitlands won the Norma Farber First Book Award from the Poetry Society of America in 2007. She has also received awards and fellowships from the Rhode Island State Council for the Arts, the Dodd Research Center at UConn and Harvard's Woodberry Poetry Room, where she is the 2017-2018 Creative Fellow.
Her work has been featured at the Beauport Sleeper-McCann, deCordova, Isabella Stewart Gardner and RISD museums, and her poems and essays have recently appeared in The Awl, Bennington Review, Boston Review, Columbia Poetry Review, PEN America, Verse and the DIA Readings in Contemporary Poetry Anthology. She was a founding board member of the Gloucester Writers Center in Massachusetts, where she now serves on the advisory board. Colby was born in Boston, grew up in Massachusetts and currently lives in Providence, where she works as a copywriter and editor.
---
How did you come to write I Mean?
I wrote the bulk of the long poem during my commute to and from a teaching job in 2010. I had a baby at home, so my only time to myself was on that drive. Several years before that a friend had challenged me to write a poem that just plainly said whatever it is I'm always trying to say in my poems and I'd been carrying the prompt around in my head for years.
The essays began with other topical shards I had rattling around—Corita Kent, The Old Man in the Mountain, The Notebook, E Clampus Vitus, Grover Cleveland, etc. I'd start with writing about one and let the rest of the essay gather.
Unfortunately, I have not been lucky to hear you read from I Mean. When you have, do you read it straight through? Do you read selections from it, change the order, or skip lines?
The poem gathers as it goes, so I start at the beginning. My friend the poet and playwright Darcie Dennigan has staged "I Mean" twice now, though, and is able to skip around in and loop it in an intuitive way I can't seem to do myself.
There's a full recording of the poem at PennSound.
I grew up in the Sierra Foothills, along the 41. Our neighbor was a Clamper (always described to me as either a historic drinking society or a drinking historical society) with deep connections to families in the area. How did they come to be a subject for you?
I was in a bar on the Central Coast in 2005 and there were jokey signs about Clampers on the walls and the guy next to me heard me wondering what a Clamper is. He gave me the drinking society line above, plus something about protecting women and children that was probably a come-on, and something else about erecting historical plaques. I was intrigued by the last part and later looked them up. Their credo is Latin for "I believe because it is absurd." Mark Twain was a member. I think what struck me about it is that it had these kind of arch, high-minded origins that its members still espouse, but it seems to have devolved into a moderately threatening gang. I started writing about them in an essay that turned out to be about monuments.
What are you currently reading for National Poetry Month?
It is not typical of me to read a lot of things at once, but I've bought a lot of books lately and this winter has been chaotic, so I am reading in several piles at the moment. A few things scattered around me at the moment are Simone White's Dear Angel of Death and Anne Boyer's A Handbook of Disappointed Fate, both from Ugly Duckling Presse, whose 25th anniversary we just celebrated here in Providence last week. I'm finally reading Susan Howe's Debths. I am supposed to be writing about Charles Olson for a fellowship and have a teetering stack of books by and about him on my desk that I'm not really reading, but visually contemplating. Rachel Blau DuPlessis's Purple Passages is one I will actually read, eventually. Finally, I read and highly recommend Mary-Kim Arnold's Litany for the Long Moment, which just came out from Essay Press. It concerns adoption and homing and displacement and is devastating.
What's next? Any upcoming book projects in the works that you can tell us about?
I have companion books called The Arrangements and One Way coming out with Four Way Books, the first one in September and the second in 2020. In poems about seeing, both investigate desire and our phenomenal capacity. In 2019 Noemi Press is putting out The Itch, which juxtaposes micro-essays on beauty and language with a long sequential essay exploring recursive subjectivity in modern and contemporary literature. It's also a rolling consideration of Ben Lerner's Leaving the Atocha Station, strung along an autofictional drive to a funeral on Cape Cod.
Recent blog posts