Please allow 5-10 days for order processing for ALL orders, in addition to shipping times.

We are currently working with very limited staffing and your patience is greatly appreciated. Thank you!
Author Q&A with Michiko Kakutani
Submitted by info@bookculture.com on Tue, 07/17/2018 - 12:00pm
As chief book critic for the New York Times, she gave us the first word on numerous books, and now she has one of her own. On the occasion of her publication of The Death of Truth, we asked Michiko Kakutani a few questions. The book asks how truth became an endangered species in contemporary America. This decline began decades ago, and in The Death of Truth Michiko Kakutani takes a penetrating look at the cultural forces that contributed to this gathering storm. In social media and literature, television, academia, and politics, Kakutani identifies the trends--originating on both the right and the left--that have combined to elevate subjectivity over factuality, science, and common values. Read our Q&A below, then order your copy of The Death of Truth or pick one up at your favorite Book Culture location!
To get updates on future author Q&As as well as other store news, click here to join our mailing list!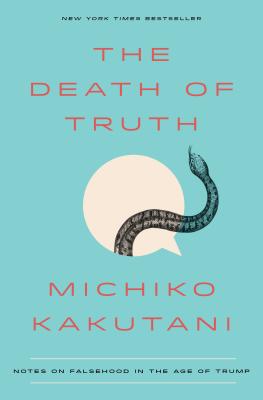 How did you come to write The Death of Truth?
I'd become increasingly alarmed during the 2016 campaign and the first year of the Trump presidency about the assault on reason and truth. There was the velocity and volume of Trump's own lies. There was also the Russian bombardment of social media with fake news, the pushing of partisan conspiracy theories by right-wing media, and growing populist appeals to anger and fear – not just in the U.S., but around the world.
The Death of Truth: Notes on Falsehood in the Age of Trump looks at the ways in which Trump has dangerously accelerated the demise of truth, and at the same time, embodies larger dynamics that have been percolating through our culture for decades – including the elevation of subjectivity and relativism over the idea of objective truth, the blurring of news and entertainment, the growing polarization of our politics, and the growth of "filter bubbles" on the web which allow people to cherry pick information that ratifies their pre-existing beliefs. They are developments that have alarming consequences for our public discourse – and for the future of democracy.
Across your research for this project, was there something that stood out as particularly surprising?
I was struck by how prescient books by Hannah Arendt (The Origins of Totalitarianism) and George Orwell (1984, Animal Farm, Collected Essays) seem about the world today. They were writing about the horrors of Nazism and Communism that nearly consumed the 20th century, but their work is timeless in that it addresses what Margaret Atwood has called the "danger flags" that make a people susceptible to demagoguery and nations easy prey for would be autocrats – an indifference to truth, a cynicism about public participation in politics, and the abandonment of reason and common sense.
Do you have a personal favorite book of all time? If so, can you share it and tell us why?
Shakespeare's collected plays remain my Desert Island choice of books. You can read and re-read individual plays and continually marvel at his wisdom, his language, his sense of humor, his understanding of the human condition. And 400 years after his death, his work feels uncannily modern in its daring and inventiveness, and its appreciation of the contingencies of life in a chaotic world reeling from accelerating change and flux.
What are you currently reading?
The Road to Unfreedom by Timothy Snyder, There There by Tommy Orange.
What's next? Any upcoming book projects in the works that you can tell us about?
A book about one hundred of my favorite books, old and new, fiction and non-fiction.
---
Michiko Kakutani, former chief book critic for The New York Times, is the author of the new book The Death of Truth: Notes on Falsehood in the Age of Trump.