Changing, Adjusting, Expanding: Conversation On The Art Of Translation With Author & Translator Kate Briggs
Submitted by info@bookculture.com on Tue, 08/21/2018 - 11:04pm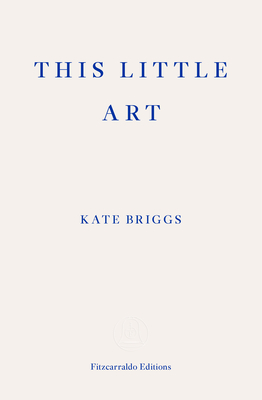 Described as "an essay with the reach and momentum of a novel," Kate Briggs's This Little Art is an exploration of the powers and potentials of translation. Drawing from her experience translating Roland Barthes's seminar and lecture notes, the book experiments with and questions our motivations, reasons, and needs for translation in the present day. On the occasion of Women in Translation Month, we asked Kate Briggs a few questions about This Little Art, the practice of translation, and reading women in translation:
One of the most fascinating aspects of This Little Art is your writing style, especially how you'll propose an idea, only to refute it, question it, or modify it a page later (as on pages 62-63 and 226-27). At other times, it feels like you're re-translating Roland Barthes and mingling his ideas with your own. How did you come to this playful approach to writing the book?
Well, I knew that I wanted to write about my own experience of translating, among others. It felt necessary to do this: to situate myself, to make it clear where and on what basis I was writing from. But my own experience was all bound up with the ideas and questions I'd encountered in Barthes's lecture courses. It was a powerful thing: to be translating the lecture notes, and at the same time to feel that the topics of the lecture course concerned, or were speaking to, my own process. For this reason, it didn't seem possible to write about translation without also writing about Barthes in one way or another. But when it came to representing Barthes's ideas, I also wanted to complicate this question of who, exactly, is writing – Barthes, or me? It is one of the most interesting aspects of reading in translation, I think: the uncertainty, the both-ness. I wanted to see if I could find ways – through straightforward citation, but also citation from memory, retranslation, rephrasing the line in my own words, or pushing an idea through my own experience – of making this uncertainty appear. Rather than just stating it and passing over it, or trying somehow resolve it, I wanted to make it felt. Perhaps this relates to the first part of your question: how ideas get proposed, rephrased, then returned to. I think I wanted to show how complicated, open questions play out over time, and not just when you're actively at work on a translation, but in all the different contexts of everyday life. So I was interested in pace. In slowing things down, stopping, suspending, going somewhere else, introducing something new, accelerating, coming back… I think as part of a more general project: to try writing my way through a set of complex questions in the same way as you might tell a complicated story, a story with its different energies and tensions and interruptions and contradictions, as well as its moments of release and resolution…
I really loved the portions of the book where you focused on the translator's craft, and it made me wonder not only about the textual but also the material traces that translators leave. What were the material forms in which you encountered the stories of translators like Lowe-Porter and Bussy? What is the translator's archive like beyond the works they have translated?
I came to Bussy and Lowe-Porter indirectly, via Barthes: in order to translate his lecture notes, I needed to read the books he was reading, and among those were two books by Gide and Mann's The Magic Mountain. Funnily enough, the books Barthes refers to in the lectures are among those that weren't translated by Bussy, but I became interested in her anyway. I realized that I already had a good deal of her work on my shelves: I'd read her translation of Gide's Les Faux-monnayeurs for example. I also owned a second-hand copy of her beautiful novel Olivia, which at that stage I hadn't yet read. Then I found her correspondence, which I first read in the English-language abridged version, and then later in the unabridged French version. The correspondence is bilingual: Bussy almost always wrote to Gide in English and Gide almost always wrote in French – a feature that was of course impossible to preserve in a monolingual edition, so I needed to read both. For Helen Lowe-Porter, the first translation I read of hers was The Magic Mountain. And was very affected by it. It was only after reading the novel in her translation that I realized her work had been the subject of so much scrutiny and criticism. I found that very difficult to square with my own reading experience: this righteous insistence that her translations were somehow – and in fact had always been – all wrong. Because of this, and because of the tone in which some critics and scholars had written about her work, I was keen to find out more about her. I wanted to get a sense of how she conceived of and experienced her work. I found a book by John C. Thirlwall called In Another Language, published in 1966 and subtitled A Record of the Thirty Year Relationship between Thomas Mann and his English Translator, Helen Tracy Lowe-Porter, as well as a recent, comprehensively researched book by David Morton called Thomas Mann in English – both quote from her correspondence with Mann. So for both women the letters form a key part of the archive. And I would imagine that this is still at least partly the case: in addition to the multiple drafts that a translator produces, as well as any marginalia on the books they're translating, there are the letters or emails a translator writes to the author (if this is possible), emails to editors and other invested readers, as well as to other writers and translators, asking questions, worrying together over problems and possible solutions. Translators do often seek each other out. Not least because translation requires this great acquisition of new knowledge. There is so much – so much – to learn about. So many questions, of very different orders, that need answering. And so I'd really want to stress the point you make: that each translation is, in and of itself, a record of an extended, lived-out translation process, a research process, a testing out process. As well as offering a reading experience on its own terms, a translation results from – and so both documents and represents –, a whole sequence of deliberations and decisions further to and often quite different from those made by the author…
We talk about translations into English (after all, we are an anglophone audience). However, in addition to all the literature originally written in other languages, This Little Art suggests there is also a whole body of translations into those languages (which also "write the writing again in another language") to which English-language audiences do not have access. How might anglophone audiences think about English-language books as also in translation? Should they? A bit more concretely, are there plans to translate This Little Art?
Yes, I think they should! I mean, I think it is always interesting to try to do this: to imagine what these books, originally written in English, are now doing – how they are behaving – in very different contexts. And to consider which ones get translated, into which languages, and why. It is a small reminder, an exercise in remembering, that how things are for me, or for you and me, is not necessarily the same for others. I get a small jolt of this whenever I see the title of a book I know well translated into a language I can't speak. Or can't yet speak very well. This happens to me every time I go into the bookshop in Rotterdam, where I live: titles I know or have read about in English existing in Dutch now, shelved next to and interacting with these different books by different writers, in ways that the author might find difficult to imagine. Incidentally, I've noticed that recently I've started reading books because they are translations, because I'm interested in the translations, and in experiencing the translator's work. Books translated from the French, for example, which I would be capable of reading in the original if I wanted to. For example, all of the books published by Les Fugitives. I wonder if other readers are doing the same? I am not substituting reading these books in French, but allowing myself the pleasure and interest of experiencing them differently. As for This Little Art, a translation into Korean is underway for a publisher called Luciole. And the writer and translator Jan Wilm is working on translating a section of the book into German. Both of these projects make me very happy! I would love to see the book in French at some stage – though I am also very aware of how many problems this would pose for the translator. But I like the idea of the book changing, adjusting, expanding…
What are you reading right now? As it is Women in Translation month, which women authors writing in languages besides English would you recommend? Are there any that you like that haven't yet been translated?
Right now I am reading Anita Brookner. I came across her book A Start in Life secondhand a month or so ago, and thought it was incredible: sharp and strange and then, at a key point, suddenly very moving. So now I am picking my way through her other work. I am also about to start a book by Elizabeth Taylor – Mrs Palfrey at the Claremont. I've never read anything by her before. As with Brookner, it's thrilling to come new to a writer with this important body of work – I felt the same when I first read a book by Elizabeth Jane Howard. And then was happy for months and months, reading my way through all of her books. In terms of women in translation, this summer I read The Territory of Light by Yuko Tsushima, translated by Geraldine Harcourt. I have been reading a lot of interesting books around motherhood recently; The Territory of Light was first published in 1979. It tells the story of a mother and her way of living with her daughter. Everything seems to be always on the edge of dangerous, and then it isn't – or it is. I found it disquieting, powerful – so powerful in fact that I had to stop reading for a while. I also read Esther Kinsky's novel River, translated by Iain Galbraith. I am lucky: one of the many pleasures of being published by Fitzcarraldo is that when I visit the office in London I get to come away with an armful of brilliant new books, many of them by women, many of them translated by women: Flights by Olga Tokarczuk, translated by Jennifer Croft, and now The Years by Annie Ernaux, translated by Alison L. Strayer. I was completely caught by River, and would be very interested to read more of Kinsky's work. Especially her memoir. Another novel I bought recently and am excited about reading is Umami by Laia Jufresa, translated by Sophie Hughes, whose work I have been admiring from afar for a while now. And then in the evenings – a bedtime story for my kids, I think this also counts – I'm reading The Letter for the King by Tonke Dragt, translated by Laura Watkinson. The book is a classic in the Netherlands. I hadn't heard of it until recently, when a bookseller suggested it. We're right at the beginning: so far there's a would-be knight holding a night-long vigil in a church. He's not supposed to talk or interact with anyone until dawn, but then all of a sudden there's this knock at the window…
Any future projects, translations or otherwise, that you can tell us about?
I have started work on a new book. I have, or at least I tell myself that I have, quite a clear idea of what I want to do with it. Certainly, I have a strong feeling. But I can't seem to find a convincing way of describing it to anyone else…! So I won't risk saying anything more here. But what I will say, or point out, is that so far my experience of translating has involved working some key male twentieth century thinkers: an early text by Michel Foucault, translated in collaboration with my friend Roberto Nigro; Roland Barthes… I'd like to translate a woman's work now. Preferably a live woman. In tandem with writing my own book, or afterwards in the future, that's something I'd very much like to do.
Kate Briggs is the translator of two volumes of Roland Barthes's lecture and seminar notes at the Collège de France: The Preparation of the Novel and How to Live Together, both published by Columbia University Press. She teaches at the Piet Zwart Institute, Rotterdam.
Recent blog posts