Please allow 1-3 days for order processing for ALL orders, in addition to shipping times.

We are currently working with very limited staffing and your patience is greatly appreciated. Thank you!
Puzzles and Games for the Little Ones
Submitted by devon on Wed, 05/27/2020 - 2:49pm
Need a boredom buster? We got you. Games, puzzles, activity books, and crafts for ages 0-14. Click on an image to learn more about each product or to place an order!
---
Ages 0-3:
---

All Aboard Train Matching Game
The fanciful art of Marc Boutavant is on display in this matching game inspired by the beloved All Aboard Train Puzzle. Oversized cards feature detailed train cars brimming with adorable characters, detail-rich scenes, and whimsy galore! Children will marvel at the richly imaginative illustrations and revel in this spirited, artful challenge that hones memory, concentration, and matching skills.
Matching the babies with their mother is so much fun right? This game serves as a puzzle and sorting toy! Let's Match the Babies together for ages 18m+.
With bright pictures and large, colourful letters, this jigsaw floor puzzle will help your child develop early letter recognition. The twenty durable jigsaw pieces can be slotted together to form a beautifully illustrated display of objects and animals from A to Z. You can reinforce their learning by sharing the colourful My First Alphabet Book together.
This puzzle's two-sided design and unusual shape allows for hours of imaginative puzzle play. One side features colors, with photographs of everyday objects on the other side. Put the pieces together to form a color wheel or mix up a variety of shapes and color patterns. There is no "right" answer—just endless fun!

The World of Eric Carle Mini Memory Match
Sharpen visual memory, focus, and concentration with Mudpuppy's The World of Eric Carle Mini Memory Match, which includes 12 pairs (24 pieces) featuring characters from Eric Carle's iconic picture books, The Very Hungry Caterpillar, Brown Bear, Brown Bear, What Do you See?, and more! There are 2 ways to play, beginners can find the matching pairs with the images facing up, and advanced players can find the matching pairs using their memory with the images facing down. Packaged in a mini box, this game is perfect for party favors, stocking stuffers, or fun on the go!
---
Ages 4-7:
---

Rosie Revere's Big Project Book for Bold Engineers
This ingenious spin-off of Beaty and Roberts's Rosie Revere, Engineer aims to get children asking questions, finding treasure where others see trash, and dreaming up solutions for such real-world "problems" as figuring out how to open a door with one's elbow. Games, profiles of inventors, and an all-around focus on pie-in-the-sky thinking add up to an activity book with substantial depth.
Children's imaginations run wild as they transform egg cartons into 6 barnyard animals. Sepcially made egg cartons tear apart and glue easily. Fun animal facts throughout the book give an added giggle as kids paint and add googly eyes, cotton balls, and pre-cut accessories to make their very own farm animal friends.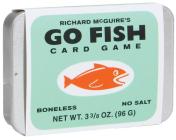 Richard McGuire's Go Fish Card Game
A classic game gets a design update. Richard McGuire's bold, colorful images are unforgettable! Quirky and compelling characters grace each card, resulting in a singular--and unforgettable--Go Fish experience!
From internationally renowned French illustrator Marc Boutavant comes a one-of-a-kind puzzle: twelve doublesided puzzle pieces assemble to create a stand-out floor puzzle. And the best part? The puzzle pieces may be arranged in countless ways! Each puzzle piece features a story packed with detail, color, and personality. And there are construction scenes, too! Large, sturdy pieces are perfect for small hands, and the puzzle's mix-and-match potential provides hours of fun!

The Bear's Song Double-Sized 24 pc Puzzle
Two scenes from Benjamin Chaud's beloved books The Bear's Song and The Bear's Sea Escape are ready to be assembled and then displayed for all to see! Kids will delight in re-creating moments from the beautifully illustrated books with 24 sturdy double-sided puzzle pieces that are perfectly sized for small hands.
---
Ages 8-12:
---
A fantastic boredom-buster for even the cleverest of kids
The perfect companion for vacation, this collection contains more than 90 puzzles, including memory, word, and number workouts; codes; battleships; and mind-bending spot-the-differences. There are hours of fun to be had with Japanese puzzles, including hanjie, kakuro, hitori, sudoku, and lots more. Let the brain games begin.
The Everything Kids' Games & Puzzles Book

Provides more than 100 challenging and satisfying word games, logic puzzles, and brain teasers. Perfect for rainy days, car trips, or after school, these games, puzzles, riddles, and mazes will help you have fun no matter what the day brings. So sharpen your pencil and get ready to puzzle!

Code Your Own Games!: 20 Games to Create with Scratch
Calling all creative young gamers! With its easy-to-follow, illustrated step-by-step instructions, this book will teach you key concepts--like drawing shapes--so you can code your own games using free software. By the end, any kid will be able to make 20 popular games, from Snake to Brick Bouncer.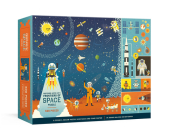 Professor Astro Cat's Frontiers of Space 500-Piece Puzzle
Puzzles are a unique and fun way to teach children important skills such as critical thinking, problem solving, creativity, and hand-eye coordination. Now they can discover the solar system and outer space with this 500-piece puzzle based on Professor Astro Cat's Frontiers of Space. A matching poster includes a search-and-find activity with science vocabulary and proper nouns (such as satellites, comets, International Space Station, and NASA Curiosity Rover), making this a fun way for kids ages seven and up to learn more about space.

Lost in a Book: A Library of Mazes
Lose yourself in the wondrous world of classic children's fiction and fairy tales from around the world, thanks to this beautifully illustrated maze book. Can you guide Dorothy along the tangled Yellow Brick Road, to reach the Emerald City? Or guide Long John Silver and his pirates to reach the treasure? The unique visual style of these extraordinary puzzles is inspired by papercraft. They have been created by master maze makers, and succeed in creating a challenging and satisfying puzzle, while also capturing the spirit of the original stories. They will intrigue and delight children of all ages. Suitable for readers aged 7+.
---
---