Author Interview with Katie Worth
Submitted by molly_21324 on Tue, 01/11/2022 - 4:42pm
This week we ha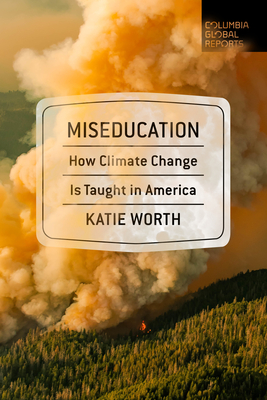 d the great opportunity to chat with author Katie Worth about her recent release, Miseducation: How Climate Change Is Taught in America?, out from Columbia Global Reports. Check out the Q&A below!
---
1) How did you come to write Miseducation: How Climate Change Is Taught in America?
While I was a reporter for the PBS investigative series Frontline, I was assigned a story in the Marshall Islands, a nation famously endangered by sea level rise. While there, my colleague and I met a 9-year-old boy who could speak fluently about climate change – what caused it, what its effects might be, what it could mean for his life. This wasn't uncommon – children there learn about the phenomenon in school from a young age. The boy's family was considering moving to Oklahoma, where they had extended family. That led to the question, if he were to move to America, what would he learn about climate change in schools here? That became an animating question of the book.

2) What were you most surprised to learn while researching for Miseducation?

It was shocking to me how deliberately the fossil fuel industry has worked to get their messages in front of children, including climate denial messages. And that this work is still ongoing, even as the energy companies work to present themselves as progressive and green.
3) What are you currently reading?
"The Body Is Not an Apology " by Sonya Renee Taylor, which digs into the intersection of gender, race and body politics.
4) Do you have a personal favorite book of all time? If so, can you share it and tell us why?
Mmm I'm terrible with these "favorite of all time" questions – they feel so high stakes! But I can tell you the book that most influenced this reporting: "Merchants of Doubt," by Naomi Oreskes and Erik M. Conway. We live in a world where one party in our two-party system outright rejects well-established science on an issue that will change the world. This book (since made into a documentary) details exactly how that world came to be. It is fascinating, sickening, surprising and enlightening, the way all great works of investigative journalism should be.

5) What's next? Any upcoming book projects in the works that you can tell us about?
I grew up near Paradise, Calif., a town that burned to the ground in a 2018 megafire that has been linked to climate change. I'm hoping to do some reporting on what the long term impact of climate-related displacement looks like, how it changes communities, and what we might expect more of as disaster strikes more and more frequently.
---
Katie Worth tells stories about science, politics and their myriad intersections. She began her career as a beat reporter at the Pacific Daily News on Guam, and later worked as an enterprise reporter for the San Francisco Examiner. Her work has appeared in Scientific American, National Geographic, Slate, Vice, The Wall Street Journal and The Best American Science and Nature Writing anthology.

$16.00

ISBN: 9781735913643
Availability: On hand at one or more locations, see product page for details
Published: Columbia Global Reports - November 16th, 2021
---

$18.95

ISBN: 9781523090990
Availability: On hand at one or more locations, see product page for details
Published: Berrett-Koehler Publishers - February 9th, 2021
---

$19.00

ISBN: 9781608193943
Availability: On hand at one or more locations, see product page for details
Published: Bloomsbury Publishing - May 31st, 2011
---
Recent blog posts