Author Interview with Megan Walsh
Submitted by molly_21324 on Sat, 01/29/2022 - 12:46pm
This week we ha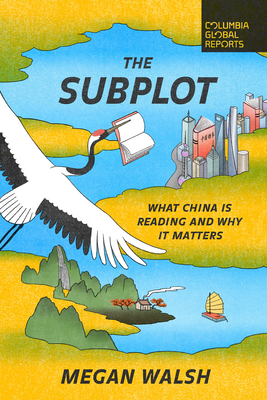 d the great opportunity to chat with author Megan Walsh about her recent release, The Subplot: What China Is Reading and Why It Matters, out from Columbia Global Reports. Check out the Q&A below!
---
1) How did you come to write The Subplot: What China Is Reading and Why It Matters?

While working at The Times of London's books section I was given the opportunity to return to China (having Iived in Beijing in 2004) to write about the literary scene there. The trip had such a big impact on me, that I decided to move back there the following year, immersing myself in reading and language-learning. The seed for The Subplot came a few years later, however, from a piece I'd written about migrant worker poetry, unique in terms of scale in the global history of working-class fiction. It became increasingly apparent that it was just one of several literary phenomena that has emerged at this time of economic transformation, and cultural restriction, in China. The book was an opportunity to dive in to as many of these genres as I could, and to show the ways in which the inadvertently diverse, strange and often innovative fiction of the most populous nation in the world offered an alternative path to understanding China itself.
2) What were you most surprised to learn while researching for The Subplot?
I was surprised by how many cool, and strange, book shops China has. They've become emblems of both its futuristic cities and its lost agrarian idylls. Many are more like science fiction-like art installations; lots of the books are fake, while twisting bookshelves are exquisite optical illusions. Others are beautifully converted village halls or temples that double up as sites of pilgrimage, places tucked away from the urban rat race in remote rural villages, where you can curl up with a novel, or a book about ploughing. Many were immensely inspiring places, whether it was young people packing out the aisles in Shenzhen's Book City (the world's biggest book store), the excitement of an intellectual hub like One Way Street Books in Beijing or the sheer devotion required to transport thousands of books up a mountain far away from any town or city. Others, however, felt like totems of style over substance, the death of physical books in the digital era. Which is not surprising, China is probably the first country in the world in which most books are read on a mobile phone. One thing, however, united all the book shops, no matter how remote or trendy, every single one of them had entranceways dominated by bookstands devoted to the CCP.

3) What are you currently reading?

I've been reading a lot of Chinese fiction in the last few years, but I am finally starting to catch up on books I've neglected here. I've been on a Booker binge in the last few weeks. I have just finished Bernadine Evaristo's wonderful Girl Woman Other and the stunning Shuggie Bain by Douglas Stuart. I am currently reading Damon Galgut's The Promise and, not to drop the ball completely on Chinese fiction, SF writer Chen Qiufan's book on the future of artificial intelligence AI 2041: Ten Visions For Our Future.
4) Do you have a personal favorite book of all time? If so, can you share it and tell us why?
The Transit of Venus by Shirley Hazzard had a huge impact in my late twenties, a novel about realising too late that you might have messed up your life which, it turns out, is often exactly the right time to realise it. Another favourite is Eileen Chang's Half a Lifelong Romance, she too perfectly captures the pitfalls and benefits of a life unlived. I have always been drawn to the spare, controlled emotions that belong to frozen places, or of people with rationed, censored feelings. So I'd add Annie Proulx's Shipping News, Edward P. Jones's The Known World and Yiyun Li's The Vagrants to my all time favourites, as well as Yi's devasting paean to fiction itself Dear Friend From My Life I Write to You in Your Life. If I was stuck on a desert island, however, I'd probably take the collected stories of Alice Munro or William Trevor – I can read them over and over and over again.
5) What's next? Any upcoming book projects in the works that you can tell us about?
I hope to return to Taiwan before too long, it's an incredible island with a rich arts scene and a vibrant youth culture, shaped by both its similarities, and stark differences, with the mainland. After the Hong Kong crackdown it looks likely to be the only place many Chinese writers will be able to actually publish their work. But in the current climate, it's hard to say what its future holds. But I'd like to think my next project would be tied up with Taiwanese literature and film in some way.