Nonfiction Sight Word Readers Guided Reading Level A (Classroom Set): Teaches the First 25 Sight Words to Help New Readers Soar! (Paperback)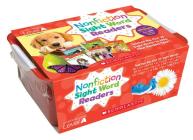 $121.99
This title is not currently in stock and may be unavailable for us to order. To find out, click on the Ask A Bookseller button.
Description
---
Set the stage for new readers to soar with these just-right books that teach the first 25 sight words! This sturdy tub includes 6 copies of 25 titles, each focused on a key sight word from the Fry List: the, of, and, a, to, etc. The books' real-world topics with predicable text are super-engaging to make mastering these must-know words easy and fun. Includes a big teaching guide filled with strategies and reproducibles to reinforce sight-word knowledge. And here's more great news: The books, correlated with Guided Reading Level A, are perfect for group learning!
First 25 Sight Words (Fly List): the, of, and, a, to, in, is, you, that, it, he, was, for, on, are, as, with, his, they, I, at, be, this, have, from
Includes:
150 full-color, 8 page books (6 copies of 25 titles)
48-page teaching guide
Sturdy Storage tub