¡Salta, Ranita, salta!: Jump, Frog, Jump! (Spanish edition) (Paperback)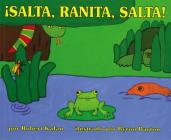 $7.99
On Our Shelves Now - Click Title to See Location Inventory.
Description
---
This high-quality Spanish-language book can be enjoyed by fluent Spanish speakers as well as those learning the language, whether at home or in a classroom.
Ésta es la tortuga que se metío en la charca y se comío a la serpiente que se deslizo de una rama y se tragó al pez que nadaba tras la ranita. ¿Salta ranita salta! Este alegre cuento repetido hará saltar y cantar de contento a todas esas "ranitas" que conoces.
About the Author
---
Robert Kalan has also written the charming children's books Rain and Blue Sea, both illustrated by Donald Crewes. Kalan holds a master's degree in education and has taught reading to both gifted and remedial students from kindergarten through the fourth grade.
Byron Barton is the creator of many picture books for young children, including My Car, Building a House, and Little Red Hen.