A Treatise on Stars (Paperback)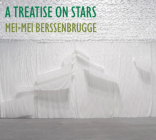 Description
---
An ethereal new collection that is "visceral with intellection" (David Lau)

Winner of the Bollingen Prize

Finalist for the National Book Award

Finalist for the Pulitzer Prize for Poetry

Finalist for the PEN Open Book Award

Finalist for the Kingsley Tufts Prize
A Treatise on Stars
 extends Mei-mei Berssenbrugge's intensely phenomenological poetics to the fiery bodies in a "field of heaven…outside spacetime." Long, lyrical lines map a geography of interconnected, interdimensional intelligence that exists in all places and sentient beings. These are poems of deep listening and patient waiting, open to the cosmic loom, the channeling of daily experience and conversation, gestalt and angels, dolphins and a star-visitor beneath a tree. Family, too, becomes a type of constellation, a thought "a form of organized light." All of our sense are activated by Berssenbrugge's radiant lines, giving us a poetry of keen perception grounded in the physical world, where "days fill with splendor, and earth offers its pristine beauty to an expanding present."
About the Author
---
Mei-mei Berssenbrugge was born in Beijing and grew up in Massachusetts. She is the author of twelve books of poetry, including Empathy, Nest, and I Love Artists. A Lit Cloud, her recent collaboration with the artist Kiki Smith, was published by Galerie Lelong in 2012. She lives in New York City and northern New Mexico.
Praise For…
---
In following and deepening into stars, Berssenbrugge turns to light, to sound, to presence, to the relation between space-time and (terrestrial) nature, in such a way that brings the stars to us and then suspends us with them rather than launching into a familiar portrait of the cosmos. There is also a spirituality here, a belief in connectedness, which in another poet's hands might trace a more generic pattern. The crackling charge of Berssenbrugge's language holds us.
Finalist for the PEN Open Book Award
— AGNI
There is something hopeful about the vast compassion of Berssenbrugge's poetry and the living connections she gently illuminates between all things.
— Joanna Lee - Los Angeles Review of Books
This book finds Berssenbrugge lovingly absorbed in the field of astronomy in all its possible aspects—abstractly, linguistically, but especially in terms of the possibilities that it offers.
— Poetry Magazine
Mei-mei Berssenbrugge's poetry explores the permeable boundaries between the human and the natural worlds, as she makes palpable her communion with birds, plants, dolphins, stars, and the beyond. Emerging from the ferment of the Basement Workshop,  a collective of Asian-American poets, artists, and activists in the 1970s, Berssenbrugge went on to create a visionary ecopoetics that directly confronts our planetary—and human—crisis. With her preternaturally long lines, Berssenbrugge composes a syntax of unfolding vistas, stretching our senses of both the plausible and the possible, bringing new modes of affinity and new paths for freedom into view. Berssenbrugge's entanglements of consciousness and perception have created a lyric that moves away from self-centeredness toward the cosmos. 
A Treatise on Stars
 is a far-out star flight—profoundly meditative, extravagant, disarming, open. 'Any soul may distribute itself into a human, a toy poodle, bacteria, an etheric, or quartz crystal.' As readers we are, again and again, enthralled by her radical wagers on poems enacting transformation. 'Writing,' the poet tells us, 'can shift the mechanism of time by changing the record, then changing the event.'
— Bollingen Prize judges citation
Berssenbrugge's lines—saturated with the hallucinatory
speed of thought—have the urgency of a manifesto; she consistently calls
attention to the interrelatedness of all things. Few living poets are as able
to enter headlong into the spiritual state of our environment and its
endangerment: one of the best minds in modern poetry.
— Major Jackson - The New York Times
Every collection of poems by Berssenbrugge is a
literary step forward...With her powerful command of words redoubled by a meditative patience,
she captures a secret rhythm, into which she weaves lines that surprise us with
their accuracy, their submission to experience.
— Etel Adnan